March 17, 2013
Pickle Me This Golden Giveaway! The New Baby (Vintage!)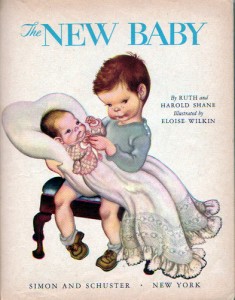 So all this Golden-mania started about a month ago when I discovered that my favourite book from childhood had been published in an earlier edition. I ordered a copy of the 1948 edition of The New Baby by Ruth and Harold Shane, and Eloise Wilkin (though it turned out to be a 1955 reprint, but close enough), but before it arrived, I received another copy from my Aunt in British Columbia who was quite excited that I was going on about a book that she'd had sitting on her shelf for years. So in the end, we're left with two copies of The New Baby, and I'd love to give our extra one away to a Pickle Me This reader.
We'll be keeping my Aunt's book, with its inscription in my grandmother's handwriting (and also because it has more pages/illustrations than the other copy, and features the bizarrrely hovering baby at the end). But the other book is still pretty good, featuring haggard, mumpish Aunt Pat with her chicken legs, the seemingly unpregnant Mommy who is due to deliver in days but must have fastened her girdle tight, and Daddy with his ever-present pipe. It's a weird book, but kids don't really seem to notice, or at least mine doesn't.  If there is a new baby coming into your lives soon, this book might serve your family well, and even if there isn't.
If you'd like to be entered in a draw to win our extra copy, just leave a comment on this post before the end of Friday March 22. Canadian addresses only please. We'll pick a winner and I'll pop it in the post next weekend. Because really, there is nothing better than books in the post, is there?
Update: Congratulations to Carrie, whose name was chosen by Harriet in a draw, fittingly picked out of a book bag from the Obsborne Collection of Children's Books.