March 17, 2013
Golden Legacy by Leonard Marcus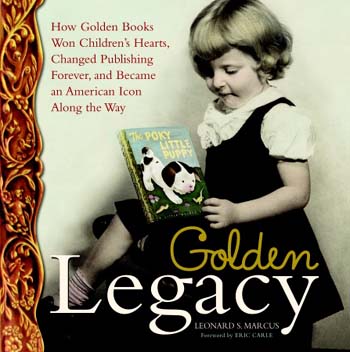 I loved Leonard Marcus' Golden Legacy as much as I imagined that I would. It traces the history of Golden Books and shows the changes and innovations in children's publishing over the 20th century, and how much of a break Golden Books truly were from tradition. They were books about children's lives in the here and now, and the world around them, which brought about the scorn of librarians who felt that children's stories should have their roots in fairy tales and archetypal stories. Though it's also easy to see why the librarians found it hard to be invested in Golden Books: Golden was a printer before it was a publisher, and while the quality of many of its books is hard to deny, the company's bottom-line was always mass production and keeping costs low. Further, their writers and artists weren't well-compensated, and their licensing agreements with Disney and the like didn't necessarily make for great literature.
Marcus's Golden history is extensive, and interesting, though I'll admit I didn't read it with a great attention to detail and the corporate history of Golden was a bit hard to follow. But I kept turning the pages because his profiles and biographies of Golden artists and writers were fascinating, and because every other page brought back a memory from my childhood, an image from a familiar book that I'd forgotten ever encountering. Golden Legacy is a pleasure to leaf through, a trip down memory lane, even if, like me, your Golden years weren't even the most golden of Golden.
Do you remember running your finger along the train on the back of a Golden Book, encountering each character so familiar from stories read over and over again? On my daughter's bookshelf are Golden Books that belonged to my mother when she was a little girl, and they don't seem dated, even through the daddies are all smoking pipes and pot-bellied stoves are warming rooms. Harriet received I Can Fly as a gift from our friend Erin when she was very small, a brand new Golden Books whose words and illustrations are so vibrant that I never realized the book had been created by Ruth Krauss and Mary Blair more than sixty years ago. And we've read Scuffy the Tugboat over and over again, but then who hasn't?
Like the last time I read a book by Leonard Marcus, reading this one has served to expand my literary universe. Suddenly there is a whole host of books and authors to seek out for the first time, as well as a long list to revisit. And Golden Legacy itself with be a book I'll be revisiting over and over again.