March 16, 2013
March Break Delights
This week was our first March Break, which turned out to be legendarily good thanks to Stuart taking the week off too. It's funny how spending a week with my child and another adult is a vastly superior prospect to just kid and me. We had a very wonderful time and were careful to never travel too far from home. We took care too to spend a lot of time hanging around doing nothing, which isn't to say that we didn't get up to some excellent adventures. We are also very pleased to have achieved our goal of going out for lunch every single day.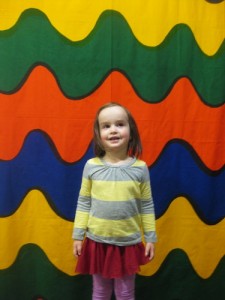 Sunday was our trip to the Maple Sugar Bush, which was sweet and sunshiney. Monday we decided to go crazy and visit the library (it's true! I know we sound reckless and wild, but it's just the way we are) which was fun because Stuart doesn't usually get to come on our weekly visits. And then we had lunch at Caplansky's Deli, because all the experts say that pregnant women should ingest giant mountains of smoked meat.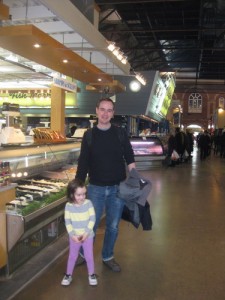 On Tuesday, we had lunch at the new Montreal-style bagel place in Kensington Market, which is so so delicious, and then we walked to the Allan Gardens Conservatory to see palm trees and cacti and other green things. Wednesday morning was devoted to having holes poked in my neck, but things got better afterwards. We had lunch at Fanny Chadwicks (our favourite local joint) and then spent the afternoon on the couch watching Pete's Dragon.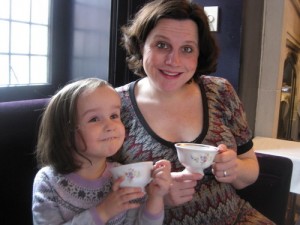 On Thursday, we visited the Textile Museum of Canada (with our free MAP pass) to see the Marimekko Exhibit, whose designs are right up my alley. (I got a Marimekko scarf!). And then we had lunch at St. Lawrence Market, pure deliciousness. We also visited the Market Gallery and picked up a print of I is for Island Ferry to hang on our wall. And then Harriet had a meltdown because we wouldn't buy her a painting of horses, and cried on the streetcar all the way home (which everyone else found absolutely charming). Later that afternoon, Harriet cheered up and we all visited the midwives, and were thrilled to hear our baby's heartbeat and to have it confirmed that Baby is growing well.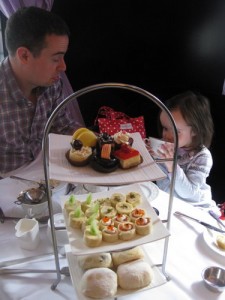 And then there was Friday. We had a reservation for 3 for tea at the Windsor Arms Hotel. Afternoon tea is my favourite thing in the world, but we haven't taken Harriet since my birthday 2 years ago when she kind of ruined it for everyone. But she's bigger now, and more importantly, our March Break had been excellent training in dining out. And she was an absolute star. Staff looked a bit dubious when we confirmed that Harriet would be having her own tea, that we wouldn't have her "nibble off our plates" as they advised. And we're glad we didn't, because then we wouldn't have been able to eat anything. Harriet had her own pot of apple-mango tea, discovered that she LOVED tiny sandwiches (and even cucumbers), and was an absolutely delightful afternoon tea companion, consenting to have tiny cakes cut into three so we could all have a taste of each. The scones were wonderful, I was so so proud of Harriet, and we all three had a very good time. I think we might keep this kid around