March 12, 2013
A Message for Vickie from Reality Bites, with information she'll already have been made aware of if she's had children of her own.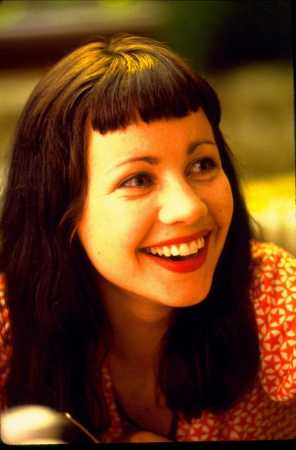 Dear Vickie,
When I was fourteen, I wanted to be you. I wanted your bangs, your vintage clothing, your string of sexual partners, and friendship with Winona Ryder. I wanted every one of my words to be so laced with irony, to be that cool. You made me want to smoke.
But what I longed for most was your talent for disdain. "My mother," you told your friend, Winona, while she was filming that documentary about you and your rumpled slacker peers, "goes to the bathroom with the door open." And I knew exactly what you were talking about. It wasn't even about doors and mothers and bathrooms, though these certainly stood for something concrete and disgusting, but instead, it was about an entire way of life, the kind of person neither you nor I ever wanted to be.
Vickie, I thought about this again years later, a few weeks before I turned thirty, which is a good half decade older than you've ever been. It was three days after the birth of my first child, born by caesarean-section due to her stubborn insistence upon lying sideways across my uterus. She was perfect, my daughter, pink and swaddled in a Perspex box, and I was already going to the bathroom with the door open. And oh, Vickie, that's not even the half of it.
That I was going to the bathroom at all was a significant milestone, open door notwithstanding. It meant not only had they taken my catheter out (and yes, Vickie, motherhood is really this transcendental), but I'd walked the eleven steps to the bathroom by myself, even though my abdomen had been sliced in two just 36 hours before. I felt like a superwoman, until it came time to pull up my underwear; Vickie, I just couldn't do it. To bend over so far in this strange new world had become anatomically impossible.
This was, of course, the official moment when the magic died. I had to call for my husband, who'd been gazing dreamily at our sleeping daughter, and summon him to my aid. He would come in to discover me sitting on the toilet, crying with embarrassment and pain. I needed him to pull up my underwear, which was not only a beige mesh hospital-issued pair, but had a diaper-sized sanitary napkin cradled in its crotch, soaked with the kind of blood that only comes post-partum. Dear Vickie, it's like no period you've seen.
There was no mystery between us after that. How could there have been? And in the months that followed, when I got into the habit of going to the bathroom with the door open because if the door was closed, my daughter cried, I thought of you again Vickie, how I'd let us both down, but also of how much I hadn't known about life and love when I was fourteen years, and you neither, even though you'd been so much older.
See, it was you, Vickie, all along. How you broke your mother, then resented the damage.  Turns out it's not marriage and habit that are passion-killers after all, but instead it's children. And it turns out also, which is such a revelation, that your mother  doesn't care what you think.
Love, Kerry