March 5, 2013
Eloise Wilkin's The New Baby: Vintage Vintage Edition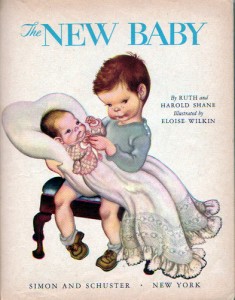 After my recent post about Eloise Wilkin's The New Baby, in which I mentioned that I'd tracked down a copy of the 1948 edition from AbeBooks, many people let me know that they had copies of the older edition (and that their kids liked it!). One of these people was my aunt, who informed me that her copy of The New Baby had been a gift from her older sister (my other aunt) on her fifth birthday, and within three days, her copy had made its way across the country and into my mailbox where we were so delighted to encounter it.
I am grateful to say that Mike from the story only looks demonic on the title page, and that he's mostly cute for the rest of the book. (Will also say that Eloise Wilkin's art improved considerably and became much more charming from the 1940s to the 1970s). The story is quite different in its details than my 1970s' version–Mike and his family live here in a rural idyll, and his Daddy's lawnmower is a push-mower (which he pushes while smoking a pipe. He is always smoking a pipe.)
As other readers have noted, Mike's mother is not permitted to look pregnant in the 1948 edition, though she is just days away from giving birth. No wonder "Mike couldn't believe it!" when he hears the news. I can't really believe it either.
The architecture of their house is nice enough, but I am not dying to live in it the way I am with Mike's house from the '70s (that window seat!).
Instead of a pram being delivered at the beginning of the story, alerting Mike to the news of changes afoot, the delivery man brings something called a "bathinette". A google search reveals that bathinettes are real and still exist, though I've never seen one. They seem to be designed for people with a surfeit of money and space in their houses, like a changing table but with a tub instead of a changing surface. They also have a terrible name that sounds like an irresolvable lisp.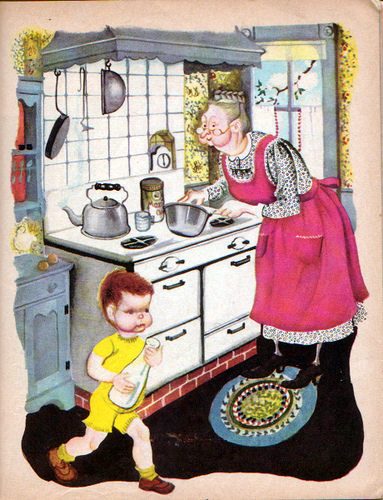 The biggest change in character is with Aunt Pat, who in the 1970s' book seems to be a pretty college girl who has come home for a few days to help out her older sister. Thirty years before, she'd been an impossibly old spinster with braids wound around her head and something seriously wrong with her jawbone–she appears to have a case of the mumps.
There is a lot of text on the pages, fewer pictures, and Harriet was impatient to get on with the story. Interestingly, Wilkin similarly situates both stories in Springtime, with blossoms on the trees and robins on the lawn digging for worms, which seems to be what the books most have in common. Though the ending is also the same, Mike asking to hold his new baby sister and deciding that having a new baby in the family was going to be just fine.
The older versions of the book we have feature two different final pages, and both are a bit curious. One shows five different images of babies thumb-sucking, stretching, sleeping. And the other is totally bizarre–it's Mike's baby sister hovering over her bassinet. Is she levitating, I wondered? Harriet posited that she was bouncing on the bed. And both of us decided that it wasn't a safe-sleep position for a newborn whatever it was.
Less than being disturbed by the matter though, Harriet has decided that the hover-baby edition of The New Baby is the only one she will consent to have read to her.
More about kids' books: please read Sara O'Leary's wonderful post on boys and reading, which features the line, "My boys both had dints on the tops of their heads as babies from where I used to rest my book while I was breastfeeding." Indeed!