February 20, 2013
The Rosedale Hoax by Rachel Wyatt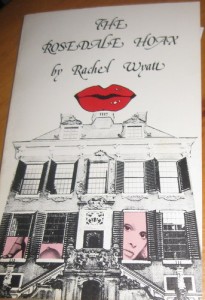 "We started out, if you want to begin at the beginning…, an army of professional people, branching out to change things, in this lousy city, to make it great. All of our cells were full of energy. Each of us was a mass of creativity and talent. We were going to do great things as young men and women dream of… Maybe the tall buildings were too much for us because now we walk along long streets, carrying our briefcases with our heads bowed, to talk to each other across polished tables… The gold and silver skyscrapers are very new and quite beautiful but they distort the images of everything around them. You'd think, wouldn't you, that our daily feet, give us this day our daily feet, beating the same tracks would have worn the sidewalk to a groove…." –Rachel Wyatt, The Rosedale Hoax (Published by House of Anansi in 1977).
More than two years after I read it for the first time, Amy Lavender Harris' Imagining Toronto continues to play a huge role in my reading life, and has led to so many amazing literary discoveries. It was because of Harris' book that I noticed The Rosedale Hoax by Rachel Wyatt in the pile at a used book sale a year or so back. And it was probably also the reason too why I became intrigued by Wyatt's 2012 novel Suspicion, which I enjoyed very much last summer (and decided was the Canadian version of Gillian Flynn's Gone Girl). In my review, I wrote, "Suspicion is a literary trick masquerading as a great suspense novel, a story with meta-elements in which characters must reconcile the fact that they've become characters." More than 30 years before, The Rosedale Hoax had taken a similar approach, but satirizing upper-crust Toronto instead of small-town life, and with characters who are all too ready to cast themselves in the story of their lives.
I had some difficulty settling into The Rosedale Hoax, mostly because Wyatt casts her reader straight into the deep end, does not go to great lengths to delineate context, and takes great joy in language and its tricks. The first sentence of the novel is, "On the wall opposite was a picture of Elsa as Miss Niagara Wholesome Fruit 1967." Elsa is the mistress of Bob Ferrand, nuclear engineer whose career is being held-up by government bureaucracy (turns out the Ontario government has been less than determined about power plants for awhile now), and whose marriage to the wonderful Martha has grown stale. Bob is the son of a peach farmer who has married well, and is raising his family in the same Rosedale home his wife grew up in. Ever conscious of his status as outsider, Bob seeks solace (and stems boredom) in sex with the former Miss Niagara Wholesome Fruit who lives in an apartment around the corner. He comes home in early morning light before his wife returns from her night shift as doctor at the hospital emergency room. Unbeknownst to Bob, though, his odd comings and goings are being spied by his peculiar poetess neighbour who has decided to take him as her lover. And there are other, even stranger forces at work–blackmail letters are turning up in the milk box and Bob becomes convinced that the mailman is the culprit, or the milkman, or the paperboy.
Anyway, about midway through, I was enjoying the ride, and found The Rosedale Hoax to be completely hilarious. I love that the 82 year-old Wyatt could release two novels decades apart that are both so very much of their time (and yet the older one not even remotely dated). There is a dark humour and deep sense of whimsy running through both books. A fantastic use of different voices too–it is not surprising that Wyatt has spent most of her career writing for radio. I'll be keeping an eye out for her other novels, and you should defintely look out for this one.