February 15, 2013
Valentines Aftermath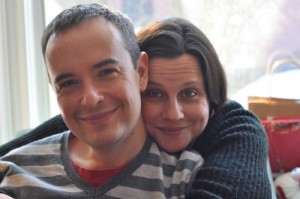 I really do love my Valentine. Our plan was to celebrate tonight with dinner out and tickets to "Do You Want What I Have Got? A Craigslist Cantata". It has been a wild week, what with the excitement of the book deal announcement, me finishing a draft of another project that has owned my life for the past six weeks, and the most atrocious day of parenthood on Wednesday that left me in tears and in despair at what we'd wrought on the world by delivering it this child. I'm starting to lose my second-trimester thunder, and fatigue is creeping in–my midwife appoints now becoming biweekly! Terrifying! Further, it ocurred to me suddenly on Wednesday evening that it is February, which never really kicks in until halfway through but when it does, the month is hard to beat. February can make everything seem quite unbearable, no matter how much loveliness is going around. Once I realized it was February though, everything seemed better. It wasn't all me after all.
We've been in the market for new bedroom furniture, a queen-size bed in case the new baby decides to bunk in with us, because a double bed doesn't cut it for such things, plus I recently found the receipt for our mattress which we bought in 2005 when we were so so poor and it cost us $200! (I remember at the time thinking it was very expensive, and so it's no surprise that it's not holding up so well 8 years later.) This week, I found a Craigslist ad from a woman who was selling her entire bedroom suite for a very reasonable prize, so we booked the Autoshare Cargo van (and a babysitter) and went to pick it up last night. Not a very romantic Valentines, we supposed, carrying a bedframe, two bedside tables, and two dressers out of a condo building, and then up the two flights of stairs into our bedroom. But now we had a bedroom suite! Furniture that matches! I never imagined such a thing was even a possibility. We still have to buy a boxspring and a new mattress, our house is in complete disarray, and if anyone wants to pick up a bed that my mom bought at a farm auction in 1976, I'm your man! But we love the new furniture.
We hauled the furniture inside, and supposed the worst of the night was done, but it actually turned out to be just the beginning. Harriet woke up screaming with a problem I'm not going to get into, but google searches provided no answers, and so we opted to take her to the hospital. We were only there for two hours, but as ever, a trip to the Hospital for Sick Children provides enormous perspective ie the child in line ahead of us whose parents feared was rejecting her transplanted liver. It was the first of all our annual visits to the hospital too where I wasn't imagining terrible scenarios that would require us to be in the hospital for weeks at a time. I knew she was fine. Our visit was unpleasant, but to be borne (so bravely by our little one too), and we were home in two hours. Walking out of that place with my healthy girl in my arms remains the greatest luxury of my entire existence, even more so than matching bedside tables.
Anyway, my point was that from a tactical standpoint, our Valentines Day was a romantic disaster. Worst night ever. But it wasn't, actually, because we were in it together, hauling enormous dressers or entertaining Harriet in the waiting room with a pen and an elastic band. As I said to my beloved Valentine this morning, "There is not a road that I wouldn't be willing to walk down with you."