February 11, 2013
Love Stories for Little Readers
(Cross-posted from Bunch. And you should click through to see a video of me reading one of these wonderful books!)
When February comes around, even the littlest readers start thinking about love and cinnamon hearts. But of course, love itself is not all cupids and doilies, nor is it even store-bought Valentine cards distributed to every student in the class. Here is a great list of literary love stories that are ideally suited to a child's perspective, demonstrating the amazing possibilities and benefits of love, friendship and family connections.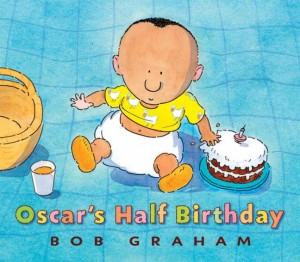 Oscar's Half-Birthday by Bob Graham: I adore this story of family life in the city, of two parents and a big sister who are so in love with their Baby Oscar that they can't possibly wait all the way until his birthday to celebrate his baby goodness. And so on the occasion of Oscar's half-birthday, they pack a picnic and trek up to the park. The celebration starts small, but by the time they've finished singing "Happy Birthday", the chorus has been picked up by people all around them, and the world is alive with song, community and connection.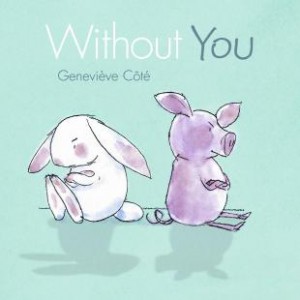 Without You by Geneviève Côté: Winner of the 2012 Marilyn Baillie Picture Book Award, Côté's book is her second about two friends, Pig and Bunny, whose differences can sometimes come between them. In Without You, the friends have a falling out and decide that they don't really need one another anyway. But everything from reading books to baking cookies turns out to be quite lonely without the other, and Pig and Bunny realize how much richer the world is when they are together. Love isn't easy, but it's worth it.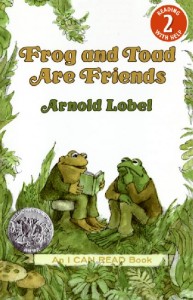 Frog and Toad by Arnold Lobel: For easy-read texts, Arnold Lobel's Frog and Toad books have remarkably depth. I continue to maintain that "The Letter" (from the Frog and Toad are Friends collection) is one of the best short stories I have ever read. The two friends face their fears and foibles together, and even their most mundane adventures result in humour, poignance, and surprises. I might declare that Frog and Toad are literature's greatest companions (and it's no surprise, really, that they were James Marshall's inspiration for the als0-excellent George and Martha books).
Should I Share My Ice-Cream? by Mo Willems: And speaking of literature's great companions, you really can't go wrong with any of Mo Willems' Elephant and Piggie books. They're simple, silly and definitely funny. In this one, Elephant Gerald is faced with a quandary: just how much is a friend required to give of himself (and his treats?). In the end, however, he realizes that the mathematics of friendship are really quite simple, and he is just lucky to be their beneficiary.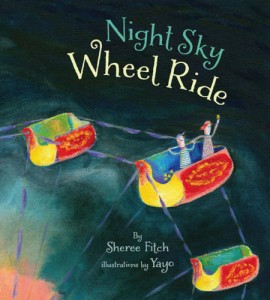 Night Sky Wheel Ride by Sheree Fitch, illustrated by Yayo: All of Sheree Fitch's books are love stories, odes to language and to life itself. From this one, I love the line, "Can you hear the mermaids murmur/beluga whales sing/ feel the whirling stir/ of every little humming phosphorescent thing?" But this is also the story of a brother and a sister, about how much braver they can be when they're together. And Night Sky Wheel Ride takes on a particular poignance when you learn about the real life story that inspired it.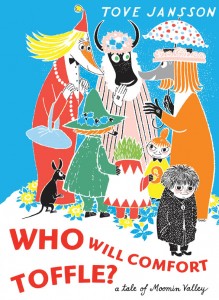 Who Will Comfort Toffle? by Tove Janssen: We are crazy about the Moomins at our house, and are so pleased that two of  Janssen's picture books are newly in print and translated into English thanks to the good people at Drawn & Quarterly. In this one, Toffle the loner ventures out into the world, skirting its shadows and avoiding company as well as danger. It turns out that no Toffle is an island though–he finds a message in a bottle from a Miffle in need of his help. Being needed provides Toffle with the purpose he's been seeking all along, as well as necessary companionship. I love the ending: "'Forget the past and all your fears. Think of all the super fun/ That we can have. I'd love to see the beach, a shell, the sun…'/And Miffle knows and Toffle knows, that both have seen the end/ Of fear and fright and long, dark night, now each has found a friend."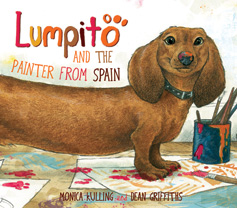 Lumpito and the Painter from Spain by Monica Kulling, illustrated by Dean Griffiths: I don't know any kid who doesn't love a story about a dog. This particular one is about a dachshund who goes to visit Pablo Picasso, and steals the painter's heart. Lump has canine adventures with paper rabbits, a goat, and becomes immortalized in his new Master's artworks.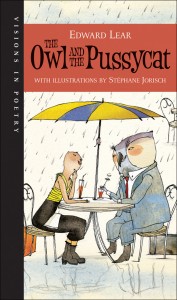 The Owl and the Pussycat By Edward Lear, illustrated by Stéphane Jorisch: Lear's curious and beautiful poem is reborn with Jorisch's illustrations, which give readers a vivid picture of things like bong trees and runcible spoons. The unlikely pair is a cat from the wrong side of the tracks and the owl who loves her, both of them fleeing  society's disapproval via a pea-green boat (equipped with some honey and plenty of money). Read this book a few times and you'll know the whole thing by heart: "And hand in hand by the edge of the sand, they danced by the light of the moon, the moon, the moon. They danced by the light of the moon."