February 4, 2013
A Question of Identity by Susan Hill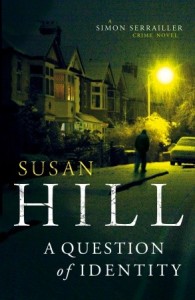 I can't believe that A Question of Identity is only my third Simon Serrailler mystery. It feels like my connection to these books goes deeper, like these are characters I've known for a long long time. Which is a testament to the depth of the books in this series, though I wonder if Susan Hill has finally crossed a line, if the Simon Serrailler novels are now incapable of standing alone. I can imagine that a reader who picks up this one looking for a good whodunnit might be confused by all the attention on Simon Serrailler's sister, Dr. Cat Deerbon, her work in a hospice, trouble amongst her adolescent children. Would they know what to make of Simon's stepmother who is hiding some kind of terrible secret about her marriage? And what of Simon's relationship with Rachel, whose husband is in the final stages of Parkinson's Disease? Who dun what anyway, that isn't contained in some rich and wonderful back-story?
For those of us well-versed in the back-story, A Question of Identity is a kind of homecoming. Susan Hill is a wonderful writer whose crime novels are as rich as any literary novel in terms of character, writing, and depth. And what I most appreciate about them are how much they are of this world. In A Question of Identity, a group of readers get together to form a book club to support their local independent bookshop, which is struggling in these tough economic times…
And yes, I admire Hill's novels' unabashed bookishness too. Right before a character is killed off, Hill has her compiling a list of books for a lending library she's thinking of starting at the seniors' complex she's just moved to. "She was well into her stride, remembering books she'd loved, wondering if this or that novel was out of print, adding 'Miss Read' hastiliy, then 'Nancy Mitford' and "Denis Lehane'–one of her own favourites, but possibly a bit too raw for some…. She was enjoying herself, and had just jotted down Daphne du Maurier when she heard a sound…"
So yes, onto the murders. At a (poorly constructed–typical) newly-built seniors' housing complex in Lafferton, two women have been killed in the dead of night in a bizarre ritual, with no signs of forced entry. Simon Serrailler and his team find a break when they link the crimes to a few committed in Yorkshire years before, except the accused in those cases was shockingly acquitted and fixed with a new identity for his own protection afterwards. Which means that he is now untraceable, and authorities are refusing to disclose any information to police in Lafferton. Simon is faced with having to track down a suspect whose existence has been wiped off the face of the earth.
Somewhat disappointingly, I guessed the murderer quite early on in the book, which says something because I'm normally quite a rubbish sleuth. There just weren't enough other suspects, and Hill has the suspect finally caught in a sting that felt somewhat artificial. So perhaps as a crime novel this one comes up short, but then I still read it with utter pleasure, and I'm not sure that a good crime plot was ever what I came to these novels looking for anyway.