January 28, 2013
The Ontario Table Cookbook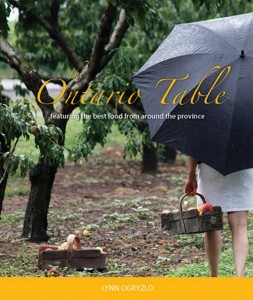 I've had my eye on The Ontario Table by Lynn Ogryzlo for awhile now. It was shortlisted for the 2012 Taste Canada Awards, and has been part of a pretty display at my local butchers with a Le Creuset dutch oven and a tea towel. And even though it isn't an alphabet book, it seemed the closest thing around to a local version of Foodshed: An Edible Alberta Alphabet. A few weeks back, the weather felt like absolutely spring and brought to mind miraculous things like fresh produce, and the gorgeous pictures in this book reflected the world exactly, so I sprung and bought it, and we've been eating rather deliciously ever since.
Animal Vegetable Miracle by Barbara Kingsolver changed our lives when we read it in 2007, and its effects linger on. At the time, we were broke but had a huge and beautiful garden, learning so much about how food grows, and we also started attending our local farmer's market to spend what pennies we could manage. 6 years later, we no longer have a backyard to put a garden in, but we're not broke either, and so we buy most of our food at our local farmer's market in the summer, buy local food whenever it can be had at the grocery store (whose selection of Ontario garlic lately has been so exciting to behold), and have an organic food box delivered weekly which is composed of local food more often than not. We eat meat once or twice a week, and only buy from local butchers with ties to small local farms. We also eat organic as much as possible, not due to any dubious health claims but because we've determined that organic food tastes better and when you're teaching a little person to enjoy vegetables, things like flavour are really important.
The Ontario Table is many things. First, it is an ode to local food cultures and to the tremendous diversity of food that is produced in Ontario. It is a travel guide to Ontario's agricultural regions that makes one want to jump in the car for a Huron County road-trip immediately. It is also profiles farms and farmers from across the province, a glimpse of the people behind the food we eat. But most importantly, it is a cookbook and it's been blowing our minds. We knew things were good when its recipe for beet chips was the first I'd ever made successfully. And then that weekend we had the cranberry beef stew and were pretty much converted. Oh, but the farmer's pie, with sweet potato and mince chock full of vegetables, and Harriet loved it as much as did. Last night we had the pesto chicken stir fry, and it lived up to all our expectations. We've decided that with a meal from The Ontario Table, it might be impossible to go wrong.
The book is beautiful with stunning photography, and it's as pleasurable to browse through as it is to eat from. From what I can tell, it's also self-published, however, and sometimes a lack of polish shows–the index has the wrong pagination (but consistently, so you figure out where's what), recipes could use more detail, and stronger editing (when exactly was my red pepper supposed to be added to last night's stir-fry). I give these criticisms for the sake of full-disclosure, so you know what you're getting exactly when I implore you, local food aficionados, to buy this book anyway. And I absolutely can't wait for summer when it, and everything, will come into bloom.