January 22, 2013
The opposite of this scattered post would be an empty space.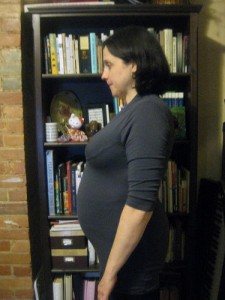 1) A friend emailed recently as she was doing a clear-out and wondered if I wanted any of her books on babies and birthing–Jessica Mitford's The American Way of Birth, Sheila Kitzinger, Alison Gopnik's The Philosophical Baby. And it was such a pleasure to tell her no. I'd read these books already. I remember poring over Gopnik's book when Harriet was six weeks old, desperate for some kind of understanding of this creature who'd arrived in my life. I remember the hours spent on internet forums trying to work out a pattern in the pieces of brand new life as a mother. I remember a lot of talking about talking about motherhood, the desperation of these conversations. How important they were for me to have at the time, but how there came a time eventually when I didn't need them anymore. I have this fantasy that when our new baby arrives in the spring and my life becomes all-baby again that literature might be my one escape from the haze. That I might spend my summer reading about everything except babies, even if it has to be done in the middle of the night while the rest of the world (except the baby) is sleeping. But I've never had a second child before. I do not know if my fantasy will come true.
2) Motherhood still interests me, but on a broader level than the whole strollers on the bus brouhaha and whether breast is really best. The conversations I appreciate most about motherhood are those that don't usually appear on the pages of glossy magazines, which rise above the Mommy Wars to broaden notions of what motherhood is and can be, and the ways in which different women's lives are affected by various experience of maternity, and the elusiveness of "choice" (which is so often another fantasy, no?). Anyway, I've got more to say on the topic and the most exciting news ever forthcoming in the weeks ahead. Stay tuned.
3) We took a picture of my baby bump! How positively first-pregancy of us! It is not altogether flattering, as I've no make-up on, lighting is poor and I've had a cold for three days and it shows. But this is me at 22.5 weeks pregnant, which is kind of remarkable. I know many people find pregnancy pictures obnoxious, but as someone who has spent most of my life feeling fat and the last three years in particular trying to hide an unfortunate abdomen post c-section (3 years later, it is no excuse, I know, but still…) it is awfully refreshing to embrace and celebrate the shape I'm in. And it's a remarkable thing, however ordinary, to have happen to one's body, to change so much in such a short time, different every day.
4) I keep vague tabs in my mind of how my blog content is divvied up, the grown-up things, the kid things, the women things. I always have this notion that I'm doing terribly well when a string of posts doesn't reference children or motherhood at all, and yet I don't fully believe this either. My blog has always been a reflection of life as it is, and small children (and the books they read) have been a huge part of my life for some time now. I could pretend otherwise, but then I'd be left with not much to write about. Anyway, all of which is to say that I'm feeling self-conscious and babyish posting about pregnancy and belly-shots, but then here is where I'm at right now. The opposite of this scattered post would be an empty space.