January 16, 2013
On Elizabeth Mitchell, Blue Clouds, and storybook discovery…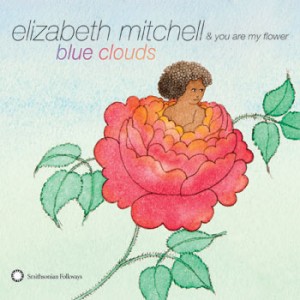 I discovered Elizabeth Mitchell a few months into Harriet's life, and her music has been our family's soundtrack ever since, the serenity of her voice making me a better mother and a happier person, her songs providing us all with a solid grounding in folk music, and their stories becoming the basis of so many of our own. And this year was a very good year to be an Elizabeth Mitchell fan–her album Little Seed came out in July and had the honour of not only being the soundtrack to our summer roadtrips (along with Carly Rae Jepsen), but was also nominated for a Grammy, and then Blue Clouds came out in October, and we managed to save it until Christmas, but we've been listening steadily ever since.
Blue Clouds is brilliant: a new version of "Froggie Went a Courtin'" that is Harriet's favourite song on the album; my favourite track is her cover of Van Morrison's "Everyone"; covers of David Bowie's "Kooks", Jimi Hendrix' "May This Be Love", Bill Withers' "I Wish You Well", "Blue Sky" by the Allman Brothers. We love new songs "Rollin' Baby", "Hop Up My Ladies". And we love the song "Arm in Arm", based on the verse by Remy Charlip: "Two octopuses got married and walked down the aisle, arm in arm in arm in arm in arm in arm in arm…"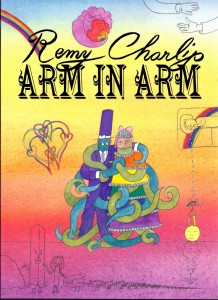 I'd never heard of Remy Charlip before Blue Clouds, but his artwork graces the album and its liner notes, and a letter inside by Brian Selznick introduces him further: "If you don't own any of Remy's books, you owe it to yourself to find as many as you can." Which is the kind of guidance I'm always happy to take, and so we've been borrowing Remy Charlip books from the library like gangbusters over the last couple of weeks. And we didn't quite know what to do with them at first: they weren't stories to be read as much as books to be used, to be engaged with. It turned out that only the first line of the "Arm in Arm" song was Charlip's, the line all the text on a single page, and the whole Arm in Arm book is made up of similar wordplay, riddles, play and whimsy. Harriet is in love with Mother Mother I Feel Sick Call For the Doctor Quick Quick Quick, and also the cowboy story Little Old Big Beard and Big Young Little Beard. We brought home Thirteen from the library yesterday, and it blew our minds! So many stories in a single book, a book you'll read over and over and never the same way twice.
I absolutely love art that takes you somewhere, and artists who collaborate. Getting to know Remy Charlip via Elizabeth Mitchell has been like getting to know a friend, and so when I discovered tonight via internet search that he'd died in August, both Stuart and I were oddly saddened. His work is so much the definition of life that it seems impossible that his own could be over, but then the books live on, and how they do, over and over and never the same way twice.