January 15, 2013
More on bad/good reads, and almost-didn't reads: Olive Kitteridge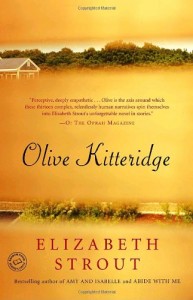 I had some thoughts about Olive Kitteridge before I read it. I don't know if I'd noticed that it had won the 2009 Pulitzer Prize for Fiction, but I'd noticed the endorsement by Oprah on the over, which in my mind is a different thing entirely. My anti-Oprah bias is part of the reason that I'd never picked the book up even though it's been sitting on my shelf for ages. Also, it was the sort of book like A Complicated Kindness whose blanket popularity had left me uninterested–the boring cover didn't help either. I'd remembered that the popularity wasn't so blanket and those who didn't love it absolutely hated it. I could never remember who of Olive or Elizabeth was the title or the author either, "Strout" seeming as unlikely as "Olive Kitteridge" from certain angles. But I've been making serious progress through my to-be-read shelf, to the S's even (because indeed, Strout Olive's author was) and so it was finally time.
I must confess an enormous affinity for the "novel in stories", though I confess it quietly because lovers of the novel are so often disappointed and/or frustrated by this strange hybrid form, and calling attention to it as a form at all makes short-story lovers furious in its undermining of the greatness of stories on their own, or side-by-side but unconnected. But then haven't you read A Visit from the Goon Squad? The Juliet Stories? Lives of Girls and Women? The Elizabeth Stories? Then surely you get the point that the form is really something onto itself?
Carrie Snyder is quite illuminating on the "novel in stories" form: "The definition on the back of my book may be a marketing tactic, but it's also accurate. I did structure each chapter as a story that could stand on its own. I did so very deliberately. I did it because I'm comfortable with the form. I did it because I like the gaps and leaps that stories permit. I like the cleanness of the form, the circularity, the interior singular coherence.
But just because each chapter works individually as a short story doesn't alter the fact that the larger book is its own whole universe. It's meant to be read from beginning to end, not piece by piece. It needs all of its parts to be complete. It unfolds chronologically. Its overarching plot-line tracks the development and changes of the same characters. It has themes that are woven throughout. It has peaks and valleys. Does all of this make it a novel? Probably. Sure. Why not?"
Olive Kitteridge is probably less novel than stories, and unlike Juliet its pieces had been written/published separately over a large span of time, but I still admire the sense of wholeness that comes from such a many-sided shape. The slight discrepancies in point of view, the inconsistency that brings the book its verisimilitude. Because people change over time, and they change depending on who is doing the watching, and a novel in stories shows all of that. A character from near and far, within and without and I love that.
Olive Kitteridge is a "good-read", the kind that Kyo Maclear would like to stretch her muscles and read less of. But I do believe that Strout's book in all of its lyrical realism can do everything that Maclear's "bad-reads" recommends. However quietly and without intention to improve its reader, Olive Kitteridge shows that "life as dynamic and unsettling, full of moments of absurdity and disorientation, at times startling and unreal." Just as rare and remarkable as the successfully-realized fictional invented universe is the fictional universe that looks exactly like the one I know. I'm still not done being disturbed, startled, and awed by the sight of life itself.