January 9, 2013
Time, Growth and Change: Books for the New Year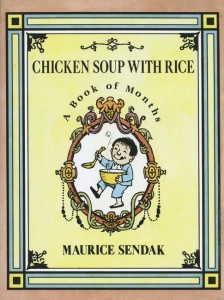 This is my latest cross-post for Bunch Family!
We were reading Chicken Soup With Rice by Maurice Sendak on New Year's Eve because, with all Sendak's usual mischief and fun, I love how it gives the reader a sense of the span of the year, which is not an easy concept to grasp when one is three-years-old.  The book is mostly nonsense, but with verse that has steeped into our family vernacular: where else would Harriet have learned about "old Bombay," a place she references at least daily in her imaginary play; we're all fond of exclaiming, "Whoopy once/whoopy twice!" at odd moments; and shouting, "I told you once/I told you twice/ all seasons of the year are nice!", which is actually true, if you think about it. As a primer of all things monthly, the book is hardly scientific–your child will come away assured that September is indeed the period in which he'll ride a crocodile down the chicken soupy Nile. But he'll know what the months are called, which is something, and you will have enjoyed having read this jolly little book to him.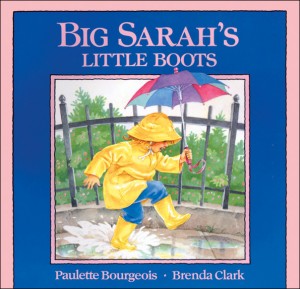 With Chicken Soup and the New Year, I started thinking about other book about time, growth, and change, about the cyclical nature of a year and a life, and Paulette Bourgeois' Big Sarah's Little Boots came to mind, illustrated by Brenda Clark. It's the story of a little girl who loves her rubber boots, which seem to deliver her extraordinary puddle-jumping powers. But one day when she puts her boots on, they no longer fit, and none of Sarah's attempts to stretch them are successful. Reluctantly, but stoically, she comes to accept that she is growing up and that there is as much to be gained as is left behind with every step forward she takes.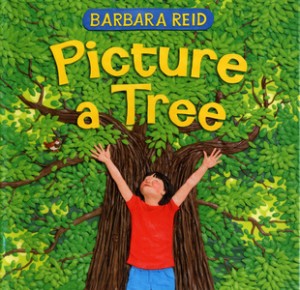 Barbara Reid's Picture a Tree is always the book I pull out at bedtime when time has got away from us, not only because it's short, but because it also manages to not remotely be lacking in depth. I am as nearly astounded at the overwhelming bounty of Reid's creation as I am at nature's– the fact that she has sculpted every single leaf in the book out of plasticine. And there are so many leaves, as Reid explores the various roles that trees play our life. My favourite spread shows trees as "A tunnel" (century-old branches stretching over a city street that looks like mine) "or an ocean" (a view of the city from a highrise balcony, the trees creating a sea of green). Reid moves through the seasons of the year, eloquently expressing the complicated idea that with every tree, "You may see the end of one thing, or the start of something new."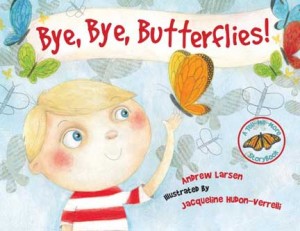 Andrew Larsen shows something similar in his latest book, Bye Bye Butterflies, which is illustrated by Jacqueline Hudon-Verelli. On a grand scale, it's the story of a boy beginning to grow up and make his way into the world, the experience encapsulated in a class project at his school in which caterpillars are raised into butterflies. "Our friends will be with us for just a few days…" the teacher tells the students. When the butterflies are grown and ready to be released, the story tells us, "The children felt a little happy and a little sad all at once." With great sympathy and nuance, Andrew Larsen is demonstrating that these are the mixed emotions that a full life comprises.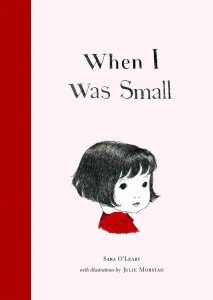 Some of my favourite books to read with my daughter are those that I remember reading as a child, the very books that belonged to me, an experience that connects me to my own history, to the reader and child I used be. This connection is made quite literal in Sara O'Leary's When I Was Small, illustrated by Julie Morstad. It's the third book by the duo, about a small boy called Henry whose mother and father view parenthood as an imaginative springboard (and really, isn't it though?). In this book, Henry wants to hear stories about when his mother was small, and she indulges him with tales of when she so small she went swimming in the birdbath, could feast on a single raspberry, slept in a mittten and used a thimble to build sandcastles. Conventional concepts of space, time and generation are collapsed as she tells her son that when she was small, what she longed for most was a small boy of her own. She wanted a small boy to tell stories to, she explains, "because in stories we can be small together."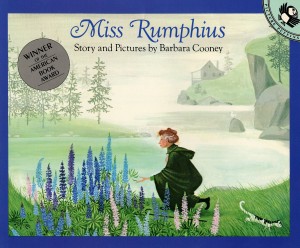 Barbara Cooney's Miss Rumphius is one of those books I loved when I was small, a book I've had kicking around my shelves since long before I had anybody small to call my own. In Miss Rumphius, Cooney evocatively illustrates the span of a lifetime, and also of history, art, literature and geography, and she shows the rich possibilities for what a single life can hold. Most importantly, the kernal of the story is as much a challenge as inspiration: "You must do something to make the world more beautiful." The book ends on a note of possibility: '"All right," I say. But I do not know yet what that can be.'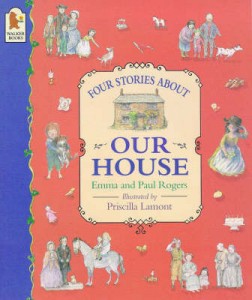 I love picture books that show the passage of time, the largeness of history and our relative smallness (but our place nonetheless) in the  scheme. And of course, I also love house books, so Emma and Paul Rogers' Our House, which is illustrated by Priscilla Lamont, was inevitably going to be a delight. The book is made up of four pretty ordinary domestic stories taking place in 1780, 1840, 1910, and 1990, each showing subtle changes in the house and surrounding area, and also the lifestyles of its changing inhabitants. The final story shows an awareness of the people who'd lived in the house before, as the family, whilst searching for an errant pet mouse, finds bits of history under floorboards and in backs of cupboards. ("We shed as we pick up, like travellers who must carry everything in their arms, and what we let fall will be picked up by those left behind."– Tom Stoppard, Arcadia.) There is no supernatural element at work here, but the connection between the child in the first story and the child at the end reminded me of my favourite time-out-of-time childhood novels like Tom's Midnight Garden, Charlotte Sometimes, and A Handful of Time.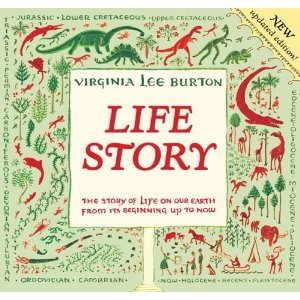 Life Story by Virginia Lee Burton is perhaps the most ambitious picture book project I have ever encountered, the history of the universe as beginning with the birth of the sun. With her usual attention to technical detail (Burton was the daughter of an artist and an engineer, and in all her books, it shows), Burton's story moves through the ages, the development of the earth and the plants and animals that inhabit it. In terms of time and place, her story because more and more focussed until her final page and a direct address to her reader: "And now it is your Life Story and it is you who plays the leading role. The stage is set, the time is now, and the place is wherever you are. Each passing second is a new link in the endless chain of Time. The drama of Life is a continuous story–ever new, ever changing, and ever wondrous to behold."