December 13, 2012
Mini Reviews: You Never Know and Earth and High Heaven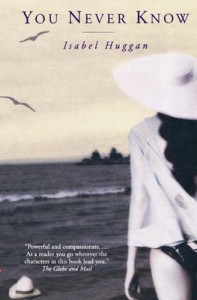 There are times when the books on my To Be Read (But Not New-Releases) shelf sit pitifully neglected, gathering dust (though dust-gathering is sort of a given in our house). And then there are times like now when I'm just barrelling through them, when I could stand to never read another new-release again and what I want is tried, tested and good. When I want something I wasn't expecting at all.
Since falling in love with Isabel Huggan in October (which is remarkable, really. October was a month during which my love was ridiculously hard to provoke. I hated everybody and everything.) I've been looking forward to reading her other books. You Never Know is a collection of short stories published in 1993. Some of the stories have a familiar tone to The Elizabeth Stories, narrated in a child's voice, or in the voice of one looking back upon childhood. But there is lots of range here too in narrative approach, setting, and character. The story that blew me away was "The Violation", the story of a newly pregnant woman trying to find a place for herself within the rural community that she and her husband had relocated to. The man who plows their lane stops by for lunch, and she proceeds to misunderstand him and he to offend her in the most subtly brutal, unexpected way possible. The gulf between them is enormous, and both of their situations are heartbreaking.
I would describe the shape of Huggan's stories as inverted-triangular, like a bouquet of flowers. The surface is broad and pretty, but there is enormous depth there, and it goes down down down to levels you might not want to encounter.  The themes of most of these stories relate to the collection's title: how hard it is to know one other, the untraversable gulfs that lie between us. From the conclusion of the book's final story: "Why we enter each other's lives and how we're meant to fit together is more that is given to us to know. And yet that's what we want, isn't it? That's what we want to understand."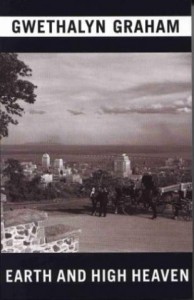 And then I read Earth and High Heaven by Gwethalyn Graham, which I found more than a year ago in a cardboard box on Heather Birrell's front porch. I was aware of the title from a list of English Quebec fiction on 49thShelf. It's the story of a upper-class Anglo Montrealer who falls in love with a Jewish lawyer, and is surprised to learn that the attitudes of friends and family are not so far removed from those in Nazi Germany and in Europe, where Canadian soldiers were fighting WW2. The war was a complicated issue in Quebec, and becomes even more so against the backdrop of Marc and Erica's romance. It's a wonderful Montreal novel, very contemporary in its feel, even as it reminded me of Hugh MacLennan all the while–Barometre Rising in particular, with its strong female character. Apparently Two Solitudes came out in this book's shadow (Graham's book won the Governor General's Award, and was a huge bestseller in the US), and MacLennan resented this, considering Graham's a lesser book for its "not explaining Canada", for the anywhereness of her setting. Though that wasn't the impression I got from Earth and High Heaven. It was very Canadian, particularly so in its setting and perhaps an easier book to encounter than MacLennan's for not being didactic. It's a conventional novel, but daring for its time and really well written. I enjoyed it completely and I'm so glad it's in print. More readers need to know it.