December 10, 2012
Christmas Reads: Comfort and Joy by India Knight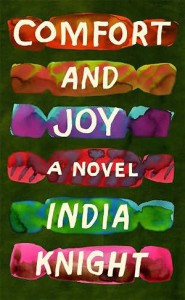 I received this book for Christmas two years ago, the hardcover version, which is important to note because it features this gorgeous cover by Leanne Shapton. In a photo from that Christmas 2010, I am curled up on the couch with this novel and enormous glass of beer, which is pretty much an ideal way to spend any day. I reread Comfort and Joy this past weekend sans beer but with just as much pleasure. How nice to have a Christmas book for the adult set, and how nice too that the book stands up to a second time around.
It's peculiarly structured, the continuing story of Clara Hutt who first appeared in Knight's novel My Life on a Plate. Comfort and Joy takes place over the Christmases of 2009-2011, illustrating the pressure Clara feels each year to provide a perfect Christmas for her fractured family. The family becomes more fractured as the years go on–Clara's second marriage ends, she worries about how it's affecting her children. All the while she's accommodating her eccentric extended family, several wacky friends, ex-husbands, and in-laws to create a 21st century perfect family Christmas. Not perfect as in magazine perfect–here there is no such veneer, and the table conversation is always unfailingly hilarious, however slightly offensive. Clara doesn't mind being offensive, but she just wants everybody to have a good time, to feel a sense of belonging she herself missed growing up.
Comfort and Joy is light, smart and funny, and sure to delight anyone who's enjoyed Knight's other novels or her newspaper columns. A treasured volume in my Christmas library.