December 5, 2012
The Selected Short Fiction of Lisa Moore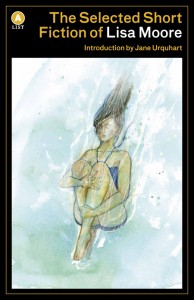 To celebrate their 45th anniversary this summer, House of Anansi reissued 10 of their "classic books" as The A List, a gorgeously designed series of eclectic reads, and the first one I turned to was The Selected Short Fiction of Lisa Moore. Because I love Lisa Moore. I was so struck by Alligator when I read it in 2006; found it to be a Woolfian "recording [of] the atoms as they fall". And then with February in 2009, a book I decided was absolutely perfect. I thought anything could be declared so objectively. As I read the novel, I had no idea of the polarizing reaction readers would have to it, that its reviewers would be alternatively sobbing hysterically or spitting with scorn. Though I've reread the novel since, and found it didn't let me down.
I'd read one of Lisa Moore's short story collections as well, but I can't remember which, which is to say everything about its impression upon me. So I was very eager to read the The Selected Short Fiction, to know better the work of this author who has meant so much to me. And what struck me about the collection, which is made up of Moore's two short story collections and a few unpublished stories, is that the novels are really not such a departure after all. The same setting, kinds of characters, preoccupations. Lisa Moore is brilliant, and it seems that what she creates can't possibly come from mere imagination but from vision. The line highlighted by Jane Urquhart in the collection's introduction: "They made love on the grass watching out for broken beer bottles, an aureole of amber glitter around their bodies."
"Natural Parents" was my favourite (and I am know I'm not the only one who has ever said this)–the cerebral, all the action. The stories were funny, wrought, exhausting, hard to follow, which makes sense, considering this from Moore, from a CBC interview whose link no longer exists: "If the reader knows where you're going, there's no point in reading that sentence; they'll just skip it. It's not for the sake of being avant-garde that I want it to be unexpected. It's because I think a real engagement with a book means that the reader has to chase after the story". All that chasing in a short story collection though is really hard, one chase after another. I love short stories and I love impossible engaging literature, but it's hard to fit that kind of read into a life. It's almost like running around in circles. One short story at a time, perhaps, but then I don't encounter my books that way. I really would much prefer to have to work that hard on a novel, if I have to work that hard at all.
It occurs to me that what Moore is up to in her novels is not really so different though–that Alligator is just as fragmented and hard to follow (and wonderful!) as the short stories are, and that anyone who sees February as anything otherwise is reading it wrong. There is a bare bones, semi-conventional plot to February that is decidedly not the point of the book. It's what's going on beneath the surface that matters, that as with the short stories moments far apart in time occur simultaneously. That February is in fact a long short story that takes on a novel's dimensions, but look close and you'll see the underpinnings are the very same. (I've written a whole essay on the goodness and value of this book. It's pretty much all I really ever have to say about anything.)
Anyway, this is the great thing about reaching back in time for a book, about a series like The A List. Because on one hand, each book is  a new encounter, but one that has the context of casting everything that came after in a whole new kind of light.