December 4, 2012
Christmas Reads: The Jolly Christmas Postman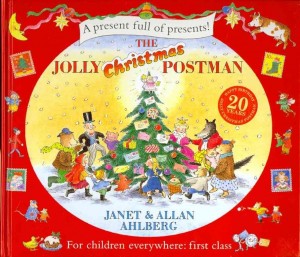 At the beginning of November, when I too was moaning about "the Christmas creep", I forgot to bat an eye when I came across The Jolly Christmas Postman in the bookshop, and instead partook in an elaborate jig in my head and bought the book immediately. Because we're big fans of the Ahlbergs at our house, and of the Jolly Postman in his original form, and the postal system in general. I saved the book until December 1 and we've been reading it steadily ever since. And how wonderful it is that this book isn't riding the tails of its franchise, but instead is even better, richer than the original. We're totally in love with it.
There is so much detail here, right down to the postmarks (from such places as Banbury Cross and Wobbleton, and if you're as entrenched in Mother Goose as we are, you too will find this delightful). Allusions to the lady with the alligator purse, a glimpse into Red Riding Hood's playhouse, updates on our favourite characters (The 3 Bears have become a 4some, Baby Bear now a big brother!). And it's not jus't letters our Jolly Postman is delivering; along with Christmas cards, his envelopes contain a jigsaw puzzle, a board game, and an elaborate 3D card. A present full of presents indeed.
Oh, and I love the meta elements! "'A book in a book!' says the Gingerbread Boy./ "What a simply delicious surprise."/ (But if he only knew he's in one too–/That would really open his eyes.)' The first two lines of which are basically my literary philosophy.
The Jolly Postman's route ends up at the North Pole at a certain workshop where he's dropping off a huge pile of children's letters. And fortunately, because it's dark, snowy and cold, he's able to hitch a ride on Santa's sleigh to get home.