November 29, 2012
The Vicious Circle reads Straight Man by Richard Russo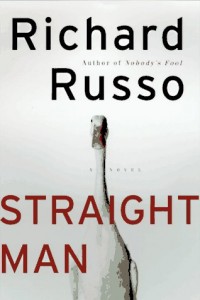 Last evening, various circumstances conspired to have me learn that it takes just 20 minutes to drive from Pharmacy and Lawrence Avenues in Scarborough to Brockton Village downtown, and to have it confirmed for the one millionth time that from the vantage point of the Gardiner Expressway between the DVP and Spadina, Toronto at night is one of the most beautiful sights in the world. And so I was a bit late for our Vicious Circle gathering but not so late, due to the swiftness of my journey, and I was pleased that they'd saved me a plate of macaroni and cheese. We're also developing a thing for cheesies. Needless to say, it was a very balanced meal.
Our book was Straight Man by Richard Russo, an academic satire (we like academic satires) that which was pretty favourably received, except for one of us who found it so much like Michael Chabon's The Wonder Boys that we didn't see the point in finishing. Others found it funny and a comfort read, though one of us found the whole academia-line a little too close to home, not so funny after all. There was speculation as to whether academia really has this much sex, and we decided yes, although it was noted that professors don't marry their students at quite the same rate that they used to.
Russo has written better books, it was pointed out–Empire Falls. It was decided that he's not great at writing endings. We wondered about the relationship between this book and Lucky Jim, and wondered what kind of 50 year old man (or anyone, for that matter) would aspire to be Lucky Jim. Lucky Hank is clever though, too clever for his own good, actually, where Jim really wasn't, which was the book's point.
The scene of the naked journalist in the hot-tub, the image of her caking make-up like her face was falling off. The female characters in the book was as interesting as their male counter-parts. There was great writing here. We loved the complexity and grown-up nature of Hank's marriage, and that he never cheats on his wife nor she on him. It's too easy a plot point and this book is more for doing something different. This is a comic novel, but it's not without considerable complexity–the lines that run through it about suicide, the scene with young Hank thinking about hanging himself from a pipe in the basement until he's rescued by his mother, and she saves him, but the incident drives them forever apart. We liked his mother too, and her sometime paramour/chauffeur.
It's a book much like its character–it can't help going for the easy laugh. We thought about Lucky Jim again (though we called it Lord Jim for a moment, and then acknowledged that Conrad went for the easy laugh not often), and how much more complex was Russo's book. There are depths here, though none of us were sure we'd visit its 400 pages again in order to plumb them.