November 21, 2012
Scaredy Squirrel Gingerbread House (with a Building Permit)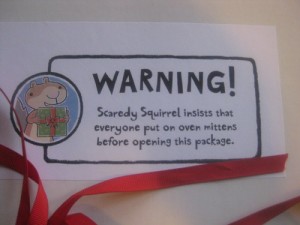 Of everything we've ever received in the mail, the Scaredy Squirrel gingerbread house certainly takes the cake. It's not just any gingerbread house kit, you see, because it comes with a building permit, and special instructions by Scaredy Squirrel on building the house right to code. Further, the gingerbread is completely delicious and has filled our entire house with the redolence of Christmas (already). Perhaps reminding us that there are only 30-some days left in which to come prepared for the holiday, and in accordance, we've also been equipped with the brand new Scaredy Squirrel book, Scaredy Squirrel Prepares for Christmas. With instructions to wear a hockey helmet (in case of falling ornaments), and to avoid candy canes (might shatter!!!).
The kit arrived yesterday, and Harriet insisted that we build it while her little friend Iole was visiting. It occurred to me at this point that 3 year-olds are far better are being agents of destruction than construction, and so this might be a terrible idea. It also made it quite possible that I'd end up swearing at Harriet in front of Iole's mother.
Fortunately, the girls were very helpful, and we did the windows, and put the walls and roof up. I figured the instructions to wait overnight before decorating were only optional and we got started on that too, but then the house collapsed in on itself over and over again and I realized that maybe Scaredy Squirrel knew what he was talking about with his instructions. So we let the house dry, and Harriet finished decorating it this afternoon. We love it, and don't know how long we can wait before we eat it– that smell! And the best thing is that I didn't even swear once.