November 12, 2012
Sleeping Funny by Miranda Hill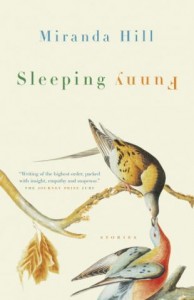 It's so tough to review a short story collection with any authority. Whenever I go declaring the "strongest story in the collection," the book reviewer next door will go and call it the weakest, or not even mention the story at all in his review. And that one story that just didn't do it for me will be the one that someone else celebrates.
In truth, it's tough to review any book with real authority, but most short story collections definitely further complicate the task. So much really is just a matter of taste, so that of course I'd be the least enamoured with Miranda Hill's "Rise: A Requiem" because historical fiction just doesn't do it for me, while "The Variance" absolutely held me enraptured, but then I've got a thing for stories about middle-class wives and mothers and leafy streets, don't I?
When I review short stories, I like to talk about the book as a whole rather than necessarily break it down into parts, but Sleeping Funny makes this nearly impossible. I could say, I guess, that this is not a seamless, well-curated, devourable collection. This is not a book that seems to be more than the sum of its parts, and yet… its parts are extraordinary at times and altogether worthwhile.
What I will say is that I am so very glad this book exists. Because it's really a beautiful object, comprising stories by a writer who won our nation's top story prize in 2011, because the stories themselves are rich and deep, and because not every publisher these days is going to take a chance on a collection whose stories are so disparate. Because this is a book less about its bookishness than about the stories themselves. A celebration of stories, nine of them, which demonstrate the remarkable range of what a short story can be.
"The Variance" really was my favourite, the latest addition the Canon of Can-Lit Lice. Written from a dizzily shifting array of perspectives, it's the story of neighbours on a well-to-do street and how their lives are disrupted when a new family moves in and casts the reality of their lives in an unflattering light (and plus, they're petitioning to cut down the old maple). A bit Meg Wolitzer, a bit Tom Perrotta, this story also shows the influence of Zsuzsi Gartner, under whom Hill has studied. I also enjoyed "Sleeping Funny", the story that ends the collection. It's about a woman who has failed to live up to her early potential and now must come home to pack away the pieces of her (hoarder) father's life after his death, and is struggling to keep a pet fish alive in order for her young daughter to have something to believe in.
I've got a thing for realism too, which is probably why these two stories worked best for me. The others read more as experiments, though they're grounded by the same detail that made "The Variance" and "Sleeping Funny" so successful. In "Apple", a high school sex-ed class is traumatized by visions of the circumstances of each of their own conceptions (except for Amanda Axley, "a brainiac in a family of rednecks" who is thrilled to learn she was the product of an illicit affair with a handsome doctor, conceived in the back of a supply closet). "Petitions to St. Chronic" is winner of the 2011 Journey Prize, the story of an abused wife who finds salvation in infatuation with a comatose man who has just attempted a very public suicide. In "6:19", a man's attempts to alter the rigid structure of his life takes him on a journey more strange than he'd ever anticipated.
"Because of Geraldine" is the story of a marriage in a shadow, the narrator looking back on her family's infatuation with her father's first love, who become a country and western singer. In "Precious", a family and their whole community become enthralled by a beautiful, golden-haired infant whose older brother's own singularity goes unnoticed. And then two stories about digging and death– "Digging for Thomas" about a young widow in WW2 whose attempts at a Victory Garden confuse her young son, and "Rise: A Requiem", about an Anglican Minister in Kingston in the 1800s who discovers that the bodies he buries are being disturbed.
While the range is sometimes disorienting, I preferred Sleeping Funny to the kind of short story collection that perfects one trick, and then just performs it over and over. Miranda Hill's is certainly a remarkable debut, and a promise of exciting books ahead.