November 11, 2012
We go to the theatre: Soulpepper's Alligator Pie!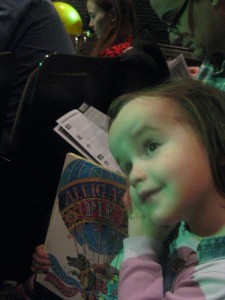 Yesterday was a monumental day, as we took Harriet to see her very first play. It was Alligator Pie, an original Soulpepper production based on the works of Dennis Lee. We'd been seriously preparing for the experience by reading the book entire, which is beloved by our whole family. It's just as wonderful as Dennis Lee knew it would be to "discover the imagination playing on things [we] live with every day", but I suppose it's not just about the here and now because I really love that with Dennis Lee books, Harriet is enjoying the books that were mine as a child. But yes, I love that we get to read about the streets where we live: "Yonge Street, Bloor Street,/ Queen Street, King: Catch an itchy monkey/With a piece of string." Walking around the city, we get to see our books brought to life, and that's an extraordinary experience, the very best way to love literature.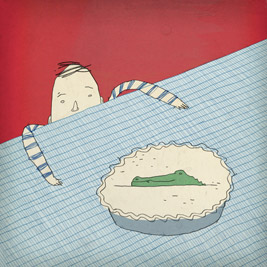 Seeing Alligator Pie on stage took it to a whole new level though. In spite of our prep, much of the show was new to us, based on Dennis Lee poems not just from the books we know (which are Alligator Pie, Garbage Delight and Jelly Belly). And even those pieces we recognized had become otherworldly by being translated into song– "Psychapoo" as a doo-wop ballad, "Tricking" as a rap. The show was loud, and fun–I noted beaming faces in the audience all the around the theatre throughout that were mirroring my own. Its emphasis was on friendship and also on play, not one of the many props on stage ever used for a single purpose of the one you'd imagine it was intended for. The actors (who were also the show's creators) were full of energy, charisma and talent, and did justice to their material, even made it something new.
The show was an hour long, which was the perfect length of time for any audience members who were 3. It was only in the last few minutes when Harriet announced (in a rare moment of silence in the room, of course): "I don't want to watch this show anymore." Which was fine, because by then it was over. We got to walk out to the theatre by stomping on a huge sheet of bubble wrap, and all of us were very satisfied with Harriet's first theatre experience.
We'd even do it again!