November 1, 2012
Kids' book review: I'm Bored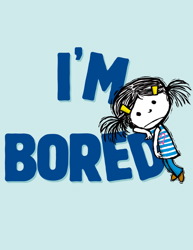 I was really pleased to review I'm Bored by Michael Ian Black and Debbie Ridpath Ohi in the October issue of Quill & Quire. It's a funny, thoughtful book that takes the readers somewhere, and the scraggly-haired protagonist is just the kind of spunky girl I like to see in picture books. I also appreciate that it's a book with a female protagonist that will appeal to boy readers as much as the girls.
From my review: "Fans of Mo Willems' Elephant and Piggie series will delight in the latest book by American comedian Michael Ian Black, illustrated by Toronto graphic artist Debbie Ridpath Ohi. Echoing Willems, Black's story is constructed around the dialogue of an unlikely couple, in this case a small girl and a potato. The text is perfectly complemented by Ohi's quirky minimalist drawings."
You can read the rest here.