October 14, 2012
The Cutting Season by Attica Locke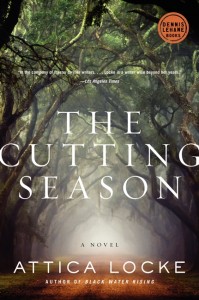 Attica Locke's 2010 novel Black Water Rising was the most unlikely finalist for The Orange Prize. Not because it wasn't good, but because cinematic crime fiction is hardly Orange-y fare. It was one of my favourite books of the year, however, so steeped in place and time with a plot that wouldn't let go. It concluded with a suggestion that the book wasn't quite over yet, that Locke would be taking Houston lawyer Jay Porter into another story, and so it comes as a bit of a surprise to me that in her second novel, she's shifted gears so much.
A surprise, but not a disappointment. Although Locke starts from scratch in The Cutting Season, the writing is just as tight, the story just as solid. The setting now is rural Louisiana, a sugar plantation turned tourist attraction called Belle Vie. Everything, from the big house to the slave cottages, is preserved exactly as was, which means something different to everyone who comes to see it, whether it be Scarlett O'Hara glamour or the travesty of slavery. For Caren Gray, Belle Vie is home, where her ancestors worked until they were freed, and where they continued to work even after. Her own mother had been the plantation's cook, and it's where Caren herself has come back to work as manager after a failed relationship and losing her New Orleans home to Hurricane Katrina. Belle Vie is a return to her roots, but also a fresh start as she aims to give her young daughter the best opportunities in life.
The idyll is broken when a dead body is discovered on the plantation grounds, the body of a migrant worker who'd toiled in nearby farming fields in a way not so different from Caren's own ancestors a century before. The Cutting Season draws its own parallels between slavery and America's illegal migrant agricultural workforce, and also becomes about real estate, slavery's legacy, the modern South and its relationship to its complicated past. Though she never finished law school, Caren has background enough to know that a young Black man who works for her is being set up for a crime that he didn't commit, and that a cover-up is going on. Her first priority, however, is to protect her daughter who appears to know more about the murder than what she lets on. To that end, her ex arrives to suss out the situation, and to provide his own expertise–he's a lawyer proper now working in DC at Obama's White House. He's just weeks away from his wedding but the past between he and Caren, as the past always does in the American South, just refuses to rest.
There were a few clunky moments, the kind that cause you to shout, "Don't go down in the basement!" at the horror movie heroine, but these were overridden by the book's general goodness, its complexity, depth and the brilliance of Attica Locke's prose. The Cutting Season was the first novel selected for a new imprint by crime writer Dennis Lehane, and it's easy to see why. It's a gripping, unforgettable book about the connections between history and now.