October 9, 2012
Swimming Home by Deborah Levy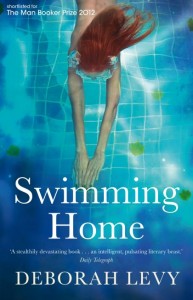 It's difficult upon first encounter to discern exactly the depth of Deborah Levy's novel Swimming Home, which has been shortlisted for the Man Booker Prize. The book is slim, just 168 pages, with passages that would almost wash over you were it not for the strange lines of prose that trip you up, and the peculiar repetition of words, lines and symbols whose effect is dizzy, disorienting. I wasn't done even once I'd come to the end, and so I had to read it again, that time backwards, mostly. And it's not even until my third reading that I feel I've got a handle on the thing, which means it's fortunate that the book is slim. It's the kind of book you really have to dive into over and over.
Upon first encounter, Swimming Home is a story we've all read before. Miscoupled marrieds arrive at a rented villa in France, and have to contend with a misfit in their midst. The misfit is Kitty Finch, a botonist, an apparent poet, an enchantress and, according to the neighbouring Englishwoman whose balcony overlooks the villa's swimming pool, also deranged. For reasons unfathomable to everyone, Kitty is invited to stay by the woman of the house, Isabel, a war correspondent who has never been at home while she's at home. She's invited Kitty to stay–Kitty who is first discovered swimming naked in the pool– even though she's clearly got eyes for Isabel's husband, the celebrated poet Josef whose betrayals stack as tall as his literary successes.
It comes as not surprise to Joe to discover that Kitty has a poem she wants to show him. "Young women who followed him about and wanted him to read their poetry, and he was now convinced that she was one of them, always started by telling him they'd written a poem about something extraordinary." She has all his books, and tells his wife that, "Joe's poetry is more like a conversation with me than anything else… We are in nerve contact."
She's projecting, we think, this beautiful, naked, swimming girl who is unhinged, but in the depths of the book, nothing is quite what it seems. Less a projector than a receptor, Kitty Finch becomes the tabula rasa upon which the other characters transmit their own fantasies, dreams and nightmares. Less a misfit than a lightning rod, the spine of this disturbing, strange novel, and we find that her grasp of reality is truer than anyone supposes, that she knows each of the people around her better than anybody else does or even better than they themselves do. Tragedy becomes inevitable, but probably not the way you think it is.
At its murky depths (which become illuminated, as are those of the swimming pool which is the novel's central image), the trick isn't to underline just what is significant in the text, but instead to understand that everything is. Nothing here is incidental. Which doesn't make for an immediately satisfying read, because you'll never be finished with this one, but it's a delight to encounter a novel that doesn't hesitate to challenge either its reader or the limits of what a novel can do.