October 3, 2012
Sussex Drive by Linda Svendsen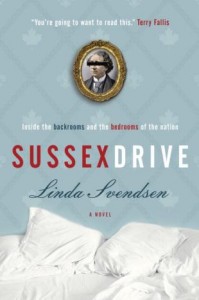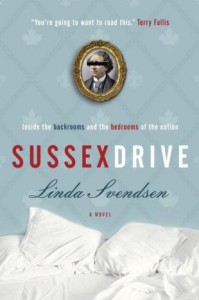 There is something distinctly un-Canadian about Sussex Drive, the new satire by Linda Svendsen, a funny, impolitic novel written in the tradition of Joe Klein's Primary Colours and Curtis Sittenfeld's American Wife. Sussex Drive doesn't quite probe the depths of the latter, with its confined chronology and a relationship to reality more along the lines of the TV show Spitting Image, but it is certainly entertaining. Sussex Drive examines the 2008 proroguement of Canadian parliament through the relationship between the Prime Minister's dynamic blonde wife and the exotic, unlikely Governor General who lives with her own family just across the street.
But it's not exactly that PM's wife, and that Governor General. Svendsen's novel takes place in an alternate reality, which we know because Queen Elizabeth has not so recently stepped down from the throne and her son Charles is now King. The Prime Minister of Canada is Greg Leggatt, hard-right politician from the Yukon, and his GG (a legacy from the previous government) is Lise Lavoie, an immigrant from the (fictional) African nation of St. Bertrand, the removal of whose first democratically-elected president Canada had been complicit. She was a renowned charity fundraiser, her first husband a First Nations environmental crusader who'd been mysteriously drowned, and her second-husband a Quebecois movie star (whose lead role in the TV movie Jeune Levesque would come back to haunt him).
Becky Leggatt supports her husband, so much so that she walks around 24 Sussex singing, "Ma-jor-itty!" (to the tune of "I Feel Pretty"). She uses her own covert manipulations to play GG Lise Lavoie right into her hand. However, when she discovers that her eldest daughter has become pregnant after a relationship with a member of her husband's RCMP security team (a veteran of the war in Afghanistan who'd lost part of his leg), she realizes that her household is not running as smoothly as she might have imagined.
Meanwhile, Lise is on to Becky, but Lise is too distracted by multiple demands on her attention to properly fend her off. Lise is wily, but the Leggatt political machine is even more so. Lise tries to balance the roles of wife, mother, international peace ambassador, head of state, but the routine becomes overwhelming and soon standing up for her principles and the honour of her position is no longer possible. Eventually, she is fearing for her own life as it becomes clear that the increasingly terrifying Canadian Prime Minister will let nothing stand between him and the power he lusts for– not even the members of his own family.
Sussex Drive is a silly novel, but also an important one, an effective satire which asks important questions about our political system, all the while it thoroughly entertains.