September 30, 2012
Block Letters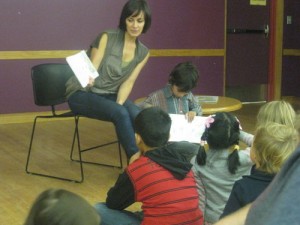 Yesterday we dared to skip nap to attend the Block Letters event at the Lillian H. Smith Library, as part of Culture Days. The show began with Cybele Young reading from her book A Few Blocks, which we've been fans of for a while, as well as from Ten Birds, and from her latest book, A Few Bites, which we were happy to purchase for ourselves.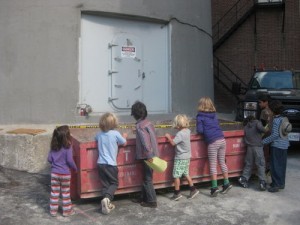 After the reading, the kids were given a map of the neighbourhood, and we all left the library to go for a walk together. Not just any walk, however. It was an ordinary walk bursting with stories and imagination, similar to the one partaken by Ferdie and Viola in Cybele Young's books. A little bit of imagination transforms an ordinary walk into an extraordinary adventure. We found a shoe, an empty lake, a strange tower with "Danger No Admittance" on its door. Where did the shoe come from? Why was the lake empty? What was inside the tower? (For the last, the kids came up with a hypothesis involving diamonds, a princess and the British King.)
We explored the alleys and strange pathways of the UofT campus, wondered where all the big rocks along Huron Street had come from, found a secret forest whose trees were sleeping monsters (who turned into rhinos if awakened), and began noticing small, wonderful things we might not have paid attention to before. What's going on down in the sewer? The sound of streetcars passing? We discovered that everywhere is steeped in wonderment in you only stretch your mind enough to note it.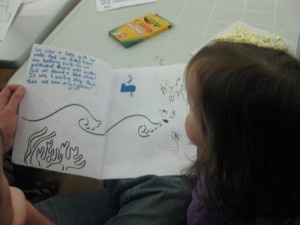 Returning to the library (its own wondrous destination, with gryphons guarding its doorway), kids were equipped with markers and crayons, plus their own storybook with Cybele Young's drawings inside and enough blank spaces for them to collaborate and tell their own stories of neighbourhood walk. Harriet dictated her tale, and drew some scrawly pictures in Harriet styly. Stuart and I helped her out so it became a bit of a family project.
There was popcorn, fun and plenty of inspiration. More than anyone could ask for from a Saturday afternoon.