September 11, 2012
The Comics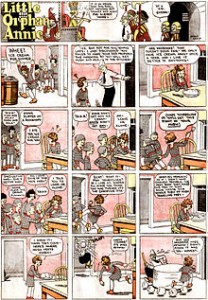 It's true that from a very young age, I read the entire Saturday paper cover-to-cover, if by "the entire Saturday paper" you mean the Toronto Star comics supplement in all its glorious colour. I loved Blondie and Beetle Bailey, Family Circus and For Better or For Worse, The Better Half and Spiderman. I liked Broom Hilda, Dennis the Menace, Hi & Lois,  and Hagar the Horrible, though I was confused by Little Orphan Annie because it wasn't like the movie at all. I was depressed by Jon Arbuckle and Cathy, but read their strips anyway, and all the others I didn't really understand– Ernie, and Mother Goose and Grimm, Shoe,  and many others. In fact, it's likely that I didn't understand any of the comics, really, but it didn't stop me from poring over them every Saturday morning, lying on the living room carpet in my pajamas. There was something in their colours and cartoonishness that made clear that this was my part of the paper; the comics were an invitation and an introduction to the pleasures of newspaper reading.
I do love newspapers, inky ones. When we lived in England, we used to buy so many weekend papers that getting them read was our chief occupation. And these days, we subscribe to the ever-shrinking Saturday Globe & Mail, and it's still one of my favourite parts of Saturday morning, Tabatha Southey, tea, book reviews and croissants.
Lately Harriet's got her own part of the paper, and she starts shouting for it as soon as I bring the paper in: "Comics! Comics!" Which is kind of funny because The Globe & Mail comics are mostly terrible, but Harriet doesn't know and doesn't care. She sees the cartoon pictures, and she thinks they're for her. And so she makes us read the whole section aloud, some comics over and over. I don't know if there has ever been a family so intent on Drabble. Sometimes the comics are even less terrible then you'd think, and when that happens, we're always kind of amazed.
And thankfully, when the comics are too unfunny, we supplement Harriet's hunger for them with regular trips to our local kids' comics shop.