September 9, 2012
Sweet Tooth by Ian McEwan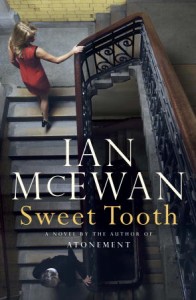 I kept getting lost in Ian McEwan's latest novel Sweet Tooth, and not necessarily in a good way. It is 1972, and after  obtaining a substandard degree in mathematics from Cambridge, Serena Frome is recruited to MI5. Her pretty blonde head is just skimming the glass ceiling as she sits down to undertake her entry-level job, mainly filing. At one point, she and a colleague are assigned an undercover job posing as cleaning ladies in order to be… actual cleaning ladies, tidying up a safe house. McEwan shows the systemic discrimination against women in the civil service at the time, and also paints a broad picture of the social and political background– miners' strikes, coal shortages, political strife, violence in Ireland and terrorism at home.
The two things about Serena Frome are that she is pretty and she likes to read. She reads novels, nothing too challenging or avant-garde. "And I suppose I was, in my mindless way, looking for something, a version of myself, a heroine I could slip inside as one might a pair of old shoes." She tells us, "Novels without female characters were a lifeless desert." Her favourite authors are also my own, Margaret Drabble, Elizabeth Bowen. She read Doris Lessing, Iris Murdoch, speedily, skimming surfaces, absorbing whole paragraphs in a glance.
Serena's good looks and knowledge of contemporary literature are put to use when she's taken off her desk and assigned to Sweet Tooth, a secret project designed to foster literature that's anti-communist in its nature. Serena is sent to Brighton to meet a promising young writer called Tom Haley and to sign him on, though he's made to think his funding is coming from an unremarkable arts body instead of MI5. Naturally, the two fall in love, and Serena is forced to keep up the plot, though she's not sure how long she'll be able to perpetuate her story. Amidst all this is paragraph-upon-paragraph of indecipherable spy business, as well as huge chunks of Haley's stories, which make reading the novel disorienting and frustrating at times.
Doubly frustrating was the character of Serena, who was drawn as such an idiot that I wondered if and why McEwan was so determined to insult his female readers (or just the ones who read like she and I do). What kind of narrator begins a sentence with, "With a pearly pink painted nail I tapped lightly on the door…"? Solopsistic to the point of blindness, frivolous and stupid, Serena was most uncompelling. So too was the novel's plot which hinged on implausibilities and unbelievable conclusions. Several times, I wasn't really sure if Sweet Tooth was worth sticking with.
Sweet Tooth has received widely mixed reviews, and your own take will probably depend on how you interpret the novel's final chapter which reveals a whole new layer of depth to the narrative (and the sort of trickery McEwan displayed at the end of Atonement). On one level, the trickery is slightly annoying, and yet suddenly the reader understands why Serena Frome is such a lacklustre, two-dimensional character, and why the novel twists and turns with such amateurism. The whole project suddenly makes sense, and that's interesting, even redeeming, but it doesn't change the fact that the reader had to endure such a crummy book to get the point.
I read once that a reader's first Ian McEwen novel is always her best, and that's been the case with me. I will never forget how captivated I was by Saturday, how I had to skip ahead to the end to discover how it all turned out because otherwise, I might have gone into cardiac arrest. I've enjoyed others since, but there's always been something lacking, as was the case here. There is so much to like about Sweet Tooth, the parallels between espionage and fiction-writing ("In this work, the line between what people imagine and what's actually the case can get very blurred. You imagine things– and you can make them come true"), its insights on story-building, depiction of a post-swinging London, and a marvelous character called Shirley Shilling ("whose alliterative name in the dependable old currency caught something of her plump lop-sided smile and old-fashioned taste for fun").
In the end, I am glad I persevered with the novel, but this was a book too clever for its boots. I do wish Ian McEwan could pull off a more substantial literary feat than the old, "Look Ma, no hands!".