September 5, 2012
All the Anxious Girls on Earth by Zsuzsi Gartner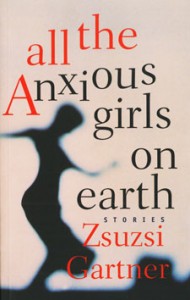 Last week, I couldn't focus, and suffered that "couldn't get into it" reading affliction that you hear about so often. I don't know if the problem was the books' or mine, but regardless, there was no hope until I turned to my to-be-read/not-new-releases shelf and picked up All the Anxious Girls on Earth by Zsuzsi Gartner (whose Better Living Through Plastic Explosives had been so admired by both me and Giller Prize judges last year). And suddenly, the world was steady again.
Except, of course, that it most definitely wasn't. As with her second, Gartner's first book of short stories is rife with explosions, decay and unsteady earth beneath our feet. It's that same dystopian Vancouver which looks suspiciously like reality (and sometimes it's also Toronto). There is weirdness (a woman swims in her mother's womb with a fetus who's a brother long ago stillborn) , and humour (another woman programs a film festival and has to content with terrible would-be filmmakers showing up at her door– "I made that film about the dude who goes through all this bad shit and then wakes up and finds out it was all just a dream… Just watch it backwards."), and violence (when the woman who threatens to set herself on fire if her film isn't programmed ["Her eyes were a living room of despair, full of mismatched furniture and candles stuck in Chianti bottles, dripping all over the place, a syringe under the wicker chair, a Ouija board on the coffee table."] follows through with her threat).
It's possible that short stories were just what I needed, albeit good ones meticulously curated into a seamless collection. A book to sink in and out of, which was about all the attention I could muster at the time. And the vision, the writing! "Lewis worked in a place that looked like a cheese shop but sold soap. A cosmetic deli." Sentences that jumped off the page, treasures themselves. I also appreciated the many connections between All the Anxious Girls and Better Living, the evolution of Gartner's preoccupations, how the latter is an extension of the former and they illuminate each other. I'm fascinated in particular with Gartner's treatment of terrorism, an idea whose definition took on radically new proportions in the time between her books. How has a changing world changed what she's writing about?
Yesterday, the Giller Prize longlist was revealed, and though people are careful to be polite about these things, the list bowled me over with its unremarkableness. And yes, excellence means different things to different people, and what this prize is all about will change every year depending on the jury in question. But I was disappointed by this list because it's been a stunning year for Canadian literature and not one of the books I've loved best made it into the spotlight. There are a few exceptions, but for the most part, I'll never read any of the nominated books, and no amount of acclaim will ever change that. How glad I am that I know my own mind (and the terrible books that knowledge will same me from!). Though it occurs to me, as it did last year, that perhaps I live too deeply in my own bookish bubble to pay much attention to prize lists anyway. I'm buying books all the time, so I'm not who Giller is trying to woo. Further, I've got so many books to be read that I'd be reading into the next year or two with what's lined up already, so in a way, prize lists are just a distraction. Perhaps it's a blessing that a list like this is so incredibly easy to tune out.
The point of all this being that there is such tremendous pressure to keep on top of new releases, to read even the books that don't interest one much. And that tuning out from that buzz can be such a liberation. If any of the Giller longlisted titles are truly for the ages, then I look forward to getting around to them in a decade or so, when it will be like the discovery of something quite precious.
Check out my Anxious Girls reading list here.