August 13, 2012
The Beautiful Mystery by Louise Penny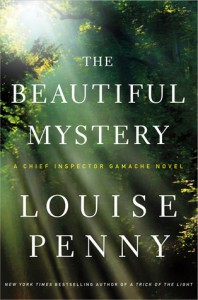 Louise Penny's latest Chief Inspector Gamache novel The Beautiful Mystery was a present I gave myself, the nicest way to come down after returning home from a perfect holiday. My second Louise Penny, after A Trick of the Light, but this time far removed from Quebec's Eastern Townships. When a murder occurs at the remote Saint-Gilbert-Entre-les-Loups monastery, the cloistered monks are forced to break their vow of silence and open their doors to outsiders, because the murder has been committed by one of their own.
The entire novel takes place over just two days, during which Armand Gamache and Jean-Guy Beauvoir have been stolen away from their domestic arrangements in Montreal to take the case on. The separation is particularly significant for Jean-Guy who has just made solid his relationship with Gamache's daughter Annie, though they've not yet told the world of their plans. Unable to access the internet or get a phone signal at the monastery, Annie and Jean-Guy send missives of love via Blackberry messenger.
It's a challenge Penny has set for herself, to situate a detective story in such a closed community in such a short period of time. All suspects present and accounted for, all identically clad and, until recently, silent. The challenge is heightened for Gamache and Beauvoir as well–the monks know their own world better than anyone, rarely betray themselves with errant words, and are adept interpreters of the police officers' own gestures and facial expressions, skills learned from years of silent community. They're a tough lot to crack.
The Beautiful Mystery of which the book's title speaks is the effect of the monks' Gregorian chanting, recordings of which had made their way into the world and made the reclusive order world-famous. In different ways, Gamache and Beauvoir fall under the spell of the chanting as they conduct their investigation. The chants themselves also take on significance as it's the choir director who has been murdered. Could the chants themselves be key to understanding what stirred one of the monks to murder? And what of the mysterious music notation the choir director had been clutching in his hands when he died?
The investigation is further complicated by the unexpected arrival of Gamache's superior, who's determined to cause trouble in Gamache's relationship with Beauvoir. What are his motives? Will the still vulnerable Beauvoir remain loyal to his boss? Are Gamache's own motivations as innocent as they seem? In the other-worldly Saint-Gilbert-Entre-les-Loups, it's hard to tell who is friend or foe.
Penny's distinctly stilted prose can be' difficult to warm to, though it flows easily once the reader gets a sense of her rhythm. The novel is peppered with Gamache's literary allusions and with pop culture references also, which add extra texture to her already substantial story. Its characteristically strong sense of place and connections to current events drive this point home even further, so that yes, as it begs to be said, Louise Penny has crafted another "beautiful mystery" of her own.