July 17, 2012
Mini Review: Offshore by Penelope Fitzgerald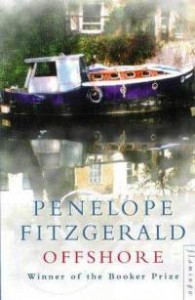 I've been trying to appreciate the British author Penelope Fitzgerald for so long, because she seems the kind of writer who'd be right up my alley, plus she's admired by readers I revere. But the novels I've read so far have failed to take with me. I've read her novels contentedly enough, but then been baffled by what to make of their shapes, of their wholes in the end. The problem has not been hers but mine, I think, and I've really been quite determined to make our relationship work. And I think we may have finally had a breakthrough with her novel Offshore, which won the Booker Prize in 1979. Which had several things working to its benefit, as a matter of fact. First, that I read it while I was away last weekend, and I do find the books I read on pleasant holidays are always better thought of than usual. And further, I found a London Tube Pass stuck in my copy, which I bought second-hand (and whose cover is less attractive than this one). It was a weekend pass from 2003, and I love the idea that someone had this book on their own holiday. And while the Underground doesn't factor so much in this story which takes place on its backstreets and on the Thames, it is still such a London book and so the tube pass seemed like the perfect prize.
Offshore is a messing about in boats book, about a group of Londoners in the 1960s who make their homes on barges tied up on Battersea Reach (which, obviously, has changed a bit since then). The boats are all in rough shape, their residents as unsteady in their lives as on land. The exception to this is Richard who has far more choice about where to live than the others, but takes to his boat anyway, The Lord Jim, much to the consternation of his wife Laura. He finds himself attracted to his neighbour Nenna James, who lives on Grace with her two precocious daughters who delighted me. Nenna's husband has left her, and she's unsure of how to get him back, or whether she wants to, which is not to say that she doesn't love him, but she loves living on Grace most of all, even if she realizes that the precarious state of her life at the present has left her daughters troublingly vulnerable.
There is also Maurice, the male prositute who's sheltering stolen goods in his barge for a shady character who'll bring ill-fortune to the community, and Willis , a marine artist, whose boat is full of holes and who is hoping to get it sold while the tide is out so that nobody notices. And Nenna's daughters, Tilda and Martha who swagger around the gangplanks, searching for treasure when the tide is out so they can buy Cliff Richard records, and who refuse to go to school because the nuns make a point of praying for them, for their father to come home.
The plot is small, but every gesture is inspired, with meaning. And often, even in its meaninglessness, the way life goes. One thing can happen, and then another, and another, with no connection between them except that each makes everything a little worse, and I thought of this when Nola is left without her purse and then is assaulted and has her shoes stolen so that she ends up coming home with bleeding feet. In its meaningless, the world is mean, but then there is illumination by human character and genuine connections between people, those moments when these people who are each adrift spy light upon the shore.
The ending is abrupt and unsettling, and reminded me of maybe why I don't like Penelope Fitzgerald after all. For why can't she tuck her characters safely into bed at the end of the story, on settled weather on dry land, but then that's not how her books go, nor how life goes either. And I make sense of all of this with an analogy as to how I came to love the short story, by not yearning for more than what the author can give but making sense of that gift instead, of its limits. And acknowledging that it's a powerful story after all whose characters are not finished with final page, that an author who gives us this really does give us something of enormous value.
And the the point is that Offshore's people are never going to find their proper moorings, really, which is the point of Offshore's people, of the Thames itself, running softly:
The river sweats
Oil and tar
The barges drift
With the turning tide
Red sails
Wide
To leeward, swing on the heavy spar.
The barges wash
Drifting logs
Down Greenwich reach
Past the Isle of Dogs.
Weialala leia
Wallala leialala