July 17, 2012
Downtown kids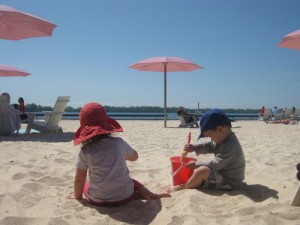 We do a lot of documenting and celebrating urban family life here at Pickle Me This, usually through a literary lens. Our family is quite passionate about engaging with the city, which is why we've been re-enacting Allan Moak's A Big City Alphabet for the past year and a half. See also recent post Great City Picture Books and last year's On urban picture books and concepts of home. We love the city so much that we don't just live here–we read here too.
Last week, it was suggested that downtown Toronto is not an appropriate place for families, for children to grow up. I don't actually think the suggestion pertained to leafy residential streets like mine, but we're still downtown, don't have a lick of sod (though the front garden is amazing), and we're removed from the ground. And it's a good life, with so many opportunities for every-day adventures. Clearly, other parents agree, which is why the Downtown Kids tumblr is such a delight to read. A compilation of letters from people who are raising kids all over the city, the site is a celebration of neighbourhoods, of city parks, storekeepers who know your name, and wonderful things like free-range pianos, museums, ferry-boats and community gardens.
Instead of writing off certain areas for family life, I do wonder how much better off we'd all be if we worked to make sure that everywhere was an appropriate place for kids to grow. I don't think the kids would be alone in benefitting.