July 11, 2012
Blooming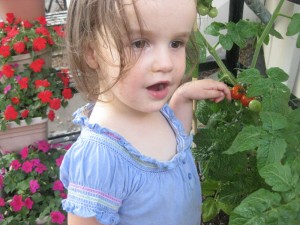 Five summers ago, we had the most extraordinary garden, and grew tomatoes, peppers, zucchinis, watermelon, and lettuce, and more, although, regrettably, the carrots didn't take. When we moved to our new apartment the following year, however, we learned that we actually had not a green thumb among us, and that our garden's greatness was mostly due to soil worked for years by Portuguese residents who'd lived there before us. We tried growing some veggies in pots on our deck, but we were thwarted by nasty squirrels and lack of sunlight, and so we just stuck to impatiens.
That this year has been different, like all our gardening adventures, has been mostly an accident. While on our annual impatiens-shop, I picked up a cherry tomato plant for the hell of it, definitely not optimistic. I decided I'd tried to grow some basil again, so I threw in one of those plants too. And then Harriet planted beans in a cup in April, in wet paper towel, and they sprouted, so we planted them.
The impatiens have done as well as ever. (They are indestructible.) The tomato plant is enormous and yielding a fantastic crop, though Harriet totally lied when she said she would eat them. The basil never stops, and I can make a batch of pesto once a week. Harriet's paper towel beans even have beans of their own, though I'm not sure what one does with mung beans other than plant them back in paper towel. And now I wished that we'd gardened a bit harder back in May, though if we had, no doubt, we would have been disappointed. There is nothing our garden hates more than deliberateness, so we'll play the game. We've got our tomatoes.
The whole summer is in bloom– we even had peaches at the market today. It's the most delicious time of the year.