July 5, 2012
The Village of Many Hats by Caroline Woodward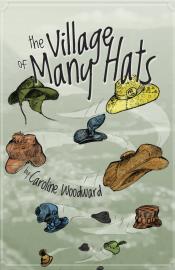 I wanted to read Caroline Woodward's middle-grade novel The Village of Many Hats because I loved her picture book Singing Away the Dark, and I was curious as to see how her talent would translate. So I was pleased to find that everything I loved about Singing Away… was present here in this story of a small community surrounded by nature in the Kootenays, whose spirit refuses to be permeated by economic hardship, a novel whose heart is a young girl who knows that bravery is not the absence of fear, but instead fear harnessed.
While Gina's young sister Sara awaits heart surgery at the children's hospital in Vancouver, Gina tries to keep things together at home and be strong in support of her family. She finds distraction in a part-time job working in a new shop in town whose proprietor is the creator of stunning hats made of recycled materials, which seem to bring strength to their wearers. And when tragedy strikes and the village Hall is damaged in a fire, the residents of Silverado need their hats more than ever.
Woodward has written about the book's inspiration, and how it also served as a fundraiser for the Reading Centre in New Denver BC. I'm not sure a book itself has ever been able to practice what it preaches, but this one did, underlining my appreciation for this lovely and affirming story of community togetherness.