June 26, 2012
Bye Bye Butterflies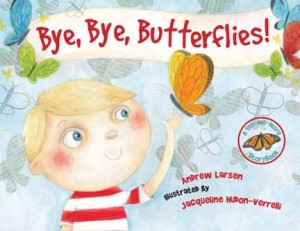 Since the last time we talked about Andrew Larsen, having become big fans of his award-winning book The Imaginary Garden, we've also become big fans of Andrew Larsen himself. We live in the same neighbourhood and always delight in seeing him, and so it was a particular joy when a few weeks back, he hand-delivered us a copy of his latest book Bye Bye Butterflies.
It's a story, he told us, that would have particular resonance as Harriet's gearing up to go to play school in September. Because it's a story about Septembers, and Junes, and seasons that go round and round, of the things we long to hold onto but have to instead set free in the world. It begins with a little boy called Charlie who's walking down the street with his dad and in a moment of silence, they hear sounds from the rooftop of a neighbouring school. Shouting children and then, at once, a swarm of butterflies are released into the sky and it's as though the world is transformed for a little while, then it's like nothing ever happened.
And Charlie too forgets about this incredible experience, as he starts school himself, as the seasons change and he gets bigger. And then his class begins a new project, raising caterpillars, and eventually, he finds himself on the school rooftop ready to set his butterfly free. "The children felt a little happy and a little sad all at once." And then the butterflies go, and Charlie peers down to the street and sees another boy gazing up at him and the butterflies, standing just where he'd been with his dad a year before. And so the cycle begins again…
"Our new friends will be with us for just a few days… Then we will have to release them," says Charlie's teacher as the butterfly project begins, and of course Larsen's book is not just about a butterfly's life cycle only. It's a story to help young children understand the steps involved in transitioning to big kid, and subtly captures the bittersweet, wonderful-terrible experience of being a parent and having to look on while this transition occurs, as our babies learn to fly away from us.
The idea of happy and sad all at once too is one that struck Harriet as quite profound, and she talked a lot about this after the fact. "Did you know, Mommy," she said to me, "that something can be happy and sad altogether?" And it's true that even as adults, we have a hard time getting our heads around this thought, so it was interesting for me to ponder too, and I love how Larsen's books acknowledge the complexity of the world with such grace and simplicity, rendering these big ideas graspable, the world fixed, if only for a moment.
Check out illustrator Jacqueline Hudon-Verrelli's blog, with lots of Bye Bye Butterflies in process. Design-wise and visually, the book is wonderful, and I love that it comes stamped with a large warning on its backside: "LIVE CONTENTS. OPEN IMMEDIATELY." Orders I'd urge any reader to follow fast.