June 21, 2012
The Girl Giant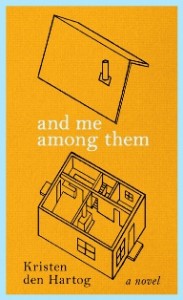 Kristen den Hartog's novel And Me Among Them was one of my favourite books of last year, and my admiration for its author was only intensified when I met her in November for an interview. It's a quiet book but, like its protagonist, And Me Among Them has made an impact on the world– it was shortlisted for the 2012 Trillium Book Award, and was just awarded the Alberta Trade Fiction Book of the Year Award. And now it's coming out in the United States published by Simon & Schuster with a new cover and a new title: The Girl Giant.
I met up with Kristen recently and she gave me a copy of the new book. It's small and square and lovely, but I've already got my gorgeous edition from Freehand Books, so I'd like to pass on The Girl Giant to one of you. If you leave a comment below before the end of Sunday June 24 (my birthday!), your name will be entered in a draw and I'll send the copy of the winner. Good luck, and thanks to Kristen, with congratulations too for all her book's success.
Update: Congratulations to Deborah! I will be in touch.