June 14, 2012
I'm thinking about chick-lit circa 1995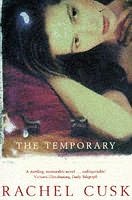 I do wonder what it would have been like to publish a novel in 1995 about a flighty woman who works in an office and the tragic details of her romantic life. Especially if this was your second novel, the first having won the Whitbread First Novel Award. Think about it: Candace Bushnell was still a newspaper columnist, and Bridget Jones was just being born as the subject of an anonymous newspaper column. "Chick-lit" was nothing but the title of an edgy anthology of "postfeminist" fiction published by a university press.
Though there is not much about Rachel Cusk's The Temporary that is chick-lit as we've come to know it. The writing, for starters. Chapter 3 begins: "Francine Snaith was lodged in the gloomy oesophagus of the Metropolitan Line, where her enjoyment of the single customary pleasure of underground travel– that of observing her reflection in the dark windows opposite her seat– had been obstructed since Baker Street by the disorderly herd of standing passengers which had been driven by overcrowding down the narrow corridor in front of her." And that's just a single sentence.
The book's beginning is wonderful too, a strange and wonderful scene with Francine Snaith answering a ringing public telephone: "…being possessed of the conviction that destiny had it continually in mind at any moment  to summon her, felt it was intended that she should answer." Eventually, she decides that her destiny is Ralph, a man she meets at an art gallery launch who she imagines to be worldly and successful, though not as much as his friend whom she really fancies. It's Ralph who calls her, however, this time on her own phone (and how much better is plot set in a pre-mobile phone world, don't you think?), and from then on, the two are entangled.
Francine is a temp, and Ralph regards her as much of the same, a temporary salve for his loneliness, but once she sinks her paws into him, she's reluctant to let go. Never mind that Francine doesn't love him exactly as much as he disregards her, but he fills a vacuum in her life and she makes him do. Cusk illustrates the curious fact of how entire relationships can be enacted out of boredom. The book is told from both their points of view, in alternating chapters. Ralph himself is a bit pathetic but created with some sympathy, while Francine is stupid and a bit evil, and here is another chick-lit diversion, because how can a female protagonist not be lovable? But she isn't.
There's a lot of great work detail throughout the novel about the realities of life as a temp, about the uncertain foundation of one's early twenties during which roommates and apartments are as fluid as identities. And like most of what Cusk writes, the book is also about class, about the enormous gap that exists between Francine and Ralph (or at least seems to. When Ralph's humble origins are revealed to Francine, we see how baseless are the clues to these things, and yet what important signifiers they continue to be). It's also a book about the city, about sweeping down streets with the tide, about being stuck in traffic, about being seen and being invisible, about being lost.
The Temporary these days would come complete with a pastel cover. But then so does Nancy Mitford, Jane Austen, Barbara Pym, all of these brilliant writers' works reduced to their simplest most common denominator.