May 31, 2012
Full Frontal T.O. by Patrick Cummins and Shawn Micallef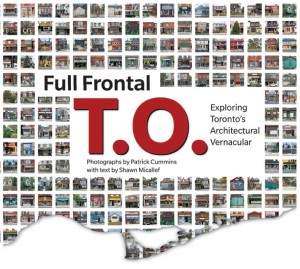 Now here is a book that our entire family can love, though not immediately, because after I picked it up at the bookstore last Thursday evening, I read it all through dinner and didn't talk to anybody. Which was kind of annoying, but when I finally shared the book, they understood. Even the three year old, who found the pictures fascinating and absorbing, context not really being the point of their appeal. Full Frontal T.O.: Exploring Toronto's Architectural Vernacular collects a series of photos by Patrick Cummins who's been documenting Toronto's street-scapes since the 1980s. Context is provided by way of Shawn Micallef's pithy text. The photos show how the same city blocks have changed over time in some ways, and remained the same in others– the gist of the approach is shown on the Full Frontal blog.
The black and white images of single building or blocks changing over time is an urban time machine, showing patterns of decay and gentrification, or stagnation, in other cases. Interspersed throughout the book are full colour spreads of buildings grouped by theme– dead stores, semi-detached houses, gothic cottages, DIY cottages (which is my favourite– these buildings fascinate me), variety stores. And the effect of all of this is make me realize how little I actually see of the city around me. We walk its streets as if we're sleeping, and then turn to a book like this to find so much that is familiar, so much that is in my neighbourhood, so many buildings that I've wondered about (like this one!) but it never occurred me to take curiosity further than that.
Every time I've opened this book, I've discovered something new– my ex-boyfriend's old house, places right around the corner, blocks of streets I used to walk down daily, and lines like, "It's good to stick your head out of a window sometimes because, apart from looking out of, that's what they're made for," a critique of Toronto's ubiquitous three-panelled windows. And in this way Full Frontal T.O. is a simulacrum of the city itself– you never encounter it the same way twice.