May 22, 2012
Night Street by Kristel Thornell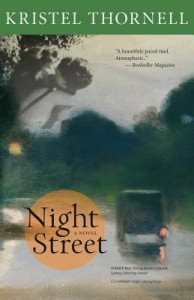 I often wonder about the nature of the fictionalized biography, the kind of which Kristel Thornell has created in her first novel Night Street, which is based on the life of Australian artist Clarice Beckett. Though I realize any biography contains its own fair share of fiction, the blatant fictionalization makes me uneasy, it makes me seize on something that isn't so and could lead to me going around in public spouting lies quite unaware. And then I wonder about my own wonderings, if they have any basis in a novel whose fiction is inspired by a real-life person I've never heard of. Do I put my wonderings away then? Does it even matter what is fact and fiction in a book that wholly creates everything I've ever known about this artist called Clarice Beckett? It's kind of interesting to consider. Even more so when I think that this book was marketed to me as being an Australian literary award-winner, the Vogel Literary Award no less. Which I've never heard of either, but I take it as authority, and isn't it funny how we do that? And I like it actually that I come to this book with no preconceptions at all.
I wanted to read Night Street because I've been dying for a novel, and also because we don't get to read enough Australian writers in Canada (and when we do, I generally appreciate them. At the moment I'm thinking of Helen Garner). Thornell has apparently chosen to fictionalize most elements of Clarice Beckett's life because Beckett was elusive by nature anyway, not terribly well known, and because Thornell wanted to blur the edges of her work as Beckett did with her own paintings, one of which is displayed on the novel's front cover.
And when I read this book, I kept thinking of Katherine Mansfield, mostly because I read so little literature from Australia that New Zealand's Mansfield is all I can come up with, also because Thornell's treatment of Beckett's life reminded me of Janice Kulyk Keefer's Thieves, and because both Mansfield and Beckett came to tuberculotic fates, though that and approximate geography are about all they have in common.
Thornell's Clarice Beckett (and I still have to make the distinction! I just can't let it go) was not a woman of tumultuous passions, being wholly devoted to her art from a very young age. Painting was it from the very beginning, and so the decision to live at a remove from the rest of the world was never a difficult one to make. Her family's reservations about her choices don't bother her, she racks up rejected proposals without compunction, she builds a portable painter's studio and wheels it out onto the beach and paints and paints as the rain falls down (which, as you might see, leads to the fate which befalls her). She has a couple of love affairs, but even these fail to permeate her focus, and her feelings towards her lovers are more aesthetic than erotic.
So it's not so much Beckett's edges that are blurry in this novel, but Beckett herself, whose remove from the world is also a remove from the book. She's an unknown quantity. There is no friction driving the novel forward, which at times is frustrating, and yet the singularity of Beckett's vision is the novel's chief appeal. Everything she sees is in terms of tone, of light and colour. "Tone came in first. Apt and beautiful, the word tone for describing the stages of intensity of light and shade, gradations in luminosity being indeed every bit as subtle and sliding at the moods of a voice. " Every person she speaks to, she's peering past them, over their shoulders because landscape is the point always. "A distance off, the child, until then seated, unfolded, elongated and became kinetic: a small figure running away from the beach. Clarice noticed in herself a growing interest in the human form; perhaps physical love did that to you."
A problem I often have with books about art is that I find myself unable to see what the text is describing, but this was not the case with Night Street. Thornell brings her images to life on the page, and uses language in way that is just as intriguing ("Silence flattered him like a high-class suit, a generously positioned lamp"). And it was refreshing to read a book that doesn't rely on the same plot-points to turn on– pull between self and society, love or art, home or the world. For Thornell's Clarice Beckett, it was only about art always, and Thornell has created a convincing portrayal of a woman so absorbed.