May 15, 2012
Malarky Giveaway. Because you really have to read it.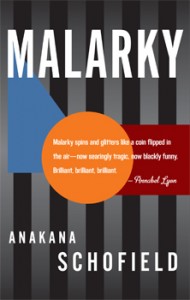 I have this problem wherever books are being sold, I always think it's kind of rude not to buy one. So this is how I ended up in possession of a spare copy of Anakana Schofield's Malarky after attending her book launch tonight. Her reading was wonderful, the novel's opening and its most terrible, hilarious, devastating sex-scene. I love this book so very much, and I'm not the only one– over here, the book is celebrated by the likes of Lynn Coady, Annabel Lyon, Jenny Diski and ME (which is the best crowd I've ever hung out in). Malarky has been chosen as one of Barnes and Noble's Summer 2012 Discover Great New Writers selections.
"If Hagar Shipley met Stella Gibbons…" is how I called it in my review. "Malarky is a journey beyond the limits of love, an equally sad and hilarious portrait of motherhood." I finished with, "This is a book that will leave you demanding more of everything else you read." And it has.
So now I'd like to send you a copy. Leave a comment below before Saturday for a chance to picked in a draw, postage paid by me because I want you to read it this much. And yes, of course, the book is autographed.
UPDATE: And the winner is Julia, whose comment number was randomly selected by a toddler from a sunhat. And now the rest of you should track down copies of your own. You won't be sorry.