May 11, 2012
In which I help solve a literary mystery I unwittingly created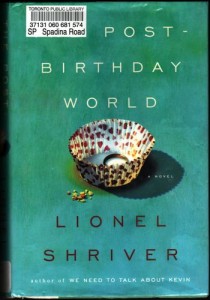 1) Dear Ms. Clare, I recently signed out a copy of Lionel Shriver's The Post-Birthday World from the Toronto Public Library and found it inscribed, "Kerry Clare, March 2007," as well as with a hand-written "To Kerry" and an illegible signature on the title page. I did some Googling and saw that you reviewed this book on your blog in March, 2007. So this must be "your" copy of the book, right? I'm just wondering why a library book might have your name in it! And possibly the author's signature, too?
Hoping you'll be willing to provide an explanation, I remain
A curious fellow reader (who is, incidentally, enjoying the book very much),
Kyle Miller
Toronto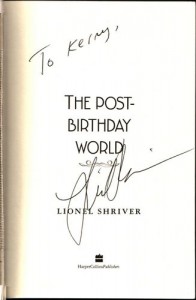 2) Wow, I gave away an autographed book? That wasn't so clever. I did see Lionel Shriver at HarbourFront in 2007 and she was wonderful. But I have far too many books in my life, and regularly prune my collection, donating the discards to the Spadina Road Library, which is one of the best places I know. If I'd realized it was autographed, I probably would have kept the book. But then I love a good literary mystery as much as the next guy, and I'm pleased to have been a part of one, so I'm glad I didn't.
Can I post your message on my blog? My blog is all about literary connections, and this is perfect.
Thanks for writing. I'm glad you're liking the book. I liked it too, as my review attests.
All the best to you,
Kerry
3) Dear Kerry, I haven't read all of that review yet (I wasn't sure if it contained spoilers), but you definitely have a new reader. Yes, please post my email (and link to my blog, if you think it's appropriate:
http://www.navigamus.net
[Kerry: appropriate indeed. Blog is quite cool]).And you're right, it is from the Spadina Road branch, though I'm downtown and I guess this just happened to be the copy they sent when I put it on hold at City Hall.
-Kyle