April 26, 2012
Funny women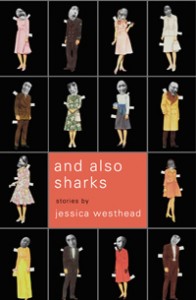 "This is what I used to think about Sherry– wait, that's not what I meant to say. I never really thought anything about Sherry. Except that she always seemed like a nice person. I don't know if I would've said before this that she was nice enough to give you the shirt off her back, but when you stop and think about it, that's a lot to ask from someone." –Jessica Westhead, "We Are All About Wendy Now"
This is from page 3 of Jessica's collection And Also Sharks. And now is the time when I think we need to start an award for women's humour writing, because I don't think the establishment gets it. Also Caroline Adderson, Zsuzsi Gartner (the exchange student riding the tortoise!!!), Heather Birrell ("Geraldine and Jerome", anyone? So funny: '"It's okay," said Geradline. "I like your belt."'), Anne Perdue, Julie Booker, Anakana Schofield, Esme Claire Keith, Laura Boudreau, Lynn Coady, Suzette Mayr, Carolyn Black (Martin Amis! Remember Martin Amis?).
We could fill a fucking ballroom.
The humour is so dark and subtle though, with all of these women. Perhaps this is what the Leacockians aren't getting (and when is the last time you laughed out loud at Sunshine Sketches, laughed so hard that you woke up your husband and then insisted on reading him entire paragraphs? Seriously?).
In these books are suicides, paraplegics, decapitations, dead babies, and maimed pot-bellied pigs. And they're so funny they'll make your heart hurt. Which is way funnier than heart-hurt caused by systemic discrimination and disregard of brilliant women writers, no?
Ha ha ha.
UPDATE: In all fairness, I see that the list of entries for this year's Leacock Prize did not include many of last year's funniest books. Though if I were them, I'd still want to revamp my program to get a broader range of books to choose from.