April 9, 2012
Stray Love by Kyo Maclear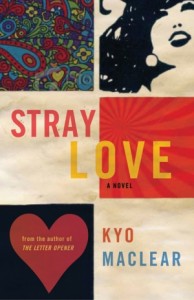 Kyo Maclear's novels are quiet, muted, about lonely characters at a remove from the world around them. And as you read these novels, you might be underwhelmed, wondering at the quietness, at the slow. They have a depth that works differently than depth does– you don't necessarily drill down into subtext; the prose here is doing what it's doing, but the thing is that it keeps going once the story is done. I have been thinking about The Letter Opener for four years now.  And similarly, having just finished her latest Stray Love, I'm still going over the story in my mind (to a soundtrack that is Waterloo Sunset).
Maclear's narrator is Marcel, an artist living in London whose precarious balance is disrupted when an old friend asks him to temporarily care for her eleven-year old daughter, Iris. The girl's arrival disturbs Marcel's quiet containment, their burgeoning relationship stirring up memories of his own troubled childhood. In a parallel storyline that becomes the novel's centre, we learn that Marcel was abandoned by his mother shortly after his birth and raised by Oliver, his adoptive father who was a war correspondent in Africa as the British Empire dissolved in the 1950s and in Asia in the early '60s. Oliver's distance wasn't always geographic either– he'd endured his own trauma, losing his parents in the London Blitz and being raised himself as a "stray" by an adoptive family. Oliver didn't always manage to be present for Marcel, even when he was. Though not biologically related, both Oliver and Marcel have the same ways of coping, shutting away disturbing memories in suitcases deep in the back of closets though not so far enough away that they'd ever forget what was there.
The story moves from Marcel's present with Iris (whose circumstances might supposed her character to be analogous to Oliver's and Marcel's, but instead she is a departure in a way that begins to change Marcel's mind about the way his life is going) to the past, to his childhood in London, longing for his mother and waiting for Oliver to come home, and also to the time he spent with Oliver in Saigon in the early 'sixties lead-up to the Vietnam War. The end of the novel also brings revelations about the more recent past, revelations that re-cast the rest of the book in an entirely different light (and I think that this is where Maclear's lingering effect comes from).
"There are so many ways of mapping the world," Marcel notes at one point as he traces his adoptive father's travels on a map on the wall with push-pins, and then begins to plot points according to his own desires. And in Stray Love, Maclear has shown us another way, how to use fiction to map time and history and place, across continents, historical periods, culture and race.