March 29, 2012
My kind-of defense of adults who read (really good) children's literature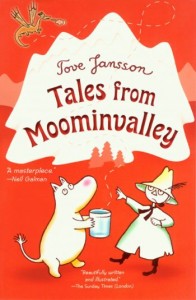 I have never read the Harry Potter books, never had any interest in them at all, and have always been a little bit pleased about this because if they're truly as wonderful as everybody claims, what a joy it will be to discover them together with my daughter. And it is true that it is through my daughter that I've really come to appreciate the greatness of children's literature. I've found such richness in the books we've read together, books I'd never read before her, like Arnold Lobel's Frog and Toad books, Russell Hoban's Frances books, The Wind in the Willows and The House at Pooh Corner. We're reading Tove Jansson's Tales from Moominvalley now, the first of her novels for us after enjoying her picture books, and they are so good. There is such depth, the prose is wonderful to read aloud, the stories are surprising, so strange and perfect. I love the idea of Harriet coming to understand the world through these stories because however fantastical, they're so real, and they acknowledge the complexities of existence and human relations in ways that just make so much sense.
So I certainly understand why reading children's literature can be a rewarding experience for a reader of any age, but I also understand where the contrarians are coming from when they scoff at adults mad for novels intended for 12 year olds. Partly because there are so many wonderful books directed toward the adult reader that I despair at what these avid readers are missing out on (and I don't want to hear about how only YA is readable these days. Clearly these readers aren't looking [or reading] hard enough). And mostly because it is very rare that a children's book is so rich that it's as limitless to the adult reader as it is for the child. Which is okay because adult readers are not who these stories are intended for, but it's the exception rather than the norm.
Arguments for the value of children's literature (or any literary genre for that matter) usually fail to acknowledge one salient fact: so much of what gets published isn't very good. And this is true in particular for genres such as children's literature, fantasy, or chicklit whose formulae have proved to be so saleable that formula and saleability becomes these books' guiding force. And then readers and writers (who are perpetually feeling much maligned) step up to a defense of the genre whose blanket-coverage undermines itself. It's never the very best of the genre that critics are talking about anyway.
Here's something too: a good reader doesn't ever restrict herself so much. Any reader who reads only one thing, whether it be YA novels, chicklit, or books written by late-20th century female English novelists, has a very narrow view of both the literary and actual worlds. I have a feeling that may of those readers who've been impassioned enough to rise up in defense of adults reading children's literature are not such narrow readers themselves. That, like me, they're readers who've learned to appreciate the value of children's literature within the wider context of a varied literary diet. They've also been trained as readers by reading adult fiction to see what the truly extraordinary children's authors like Tove Jansson are really getting at.