March 21, 2012
Our Best Book from the Library Haul: The Red Carpet by Rex Parkin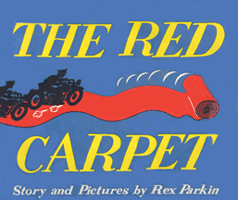 Well, this blog feature is going to have a cramp in its style because our public library workers have gone on strike. The only bright spot in all this is that we got 20 books out of the library last week, and that most of them have turned out to be really good, and let's hope I don't have to feature them all one-by-one until our librarians are back at work and our haul can be replenished.
In the meantime, there is Rex Parkin's The Red Carpet, first published in 1948. When the doorman at the Hotel Bellevue rolls out the carpet in preparation for a visit from the Duke of Sultana, something bizarre happens. Turns out that carpet's length is infinite and it just keeps going and going in a whimsical tale of causality and chaos than puts me in mind of Curious George Gets a Medal and Because a Little Bug Went Ka-Choo (and illustrations with a touch of the wonderful Virginia Lee Burton).
We are slaves to rhyming couplets over here, which we never tire of reading over and over again, so this book suits our tendencies. Though I do delight in the story's one week point, at which "Kobe" and "globe" are meant to rhyme, and I make a point of pronouncing "globe" as "glow-bay".