March 20, 2012
Among Others by Jo Walton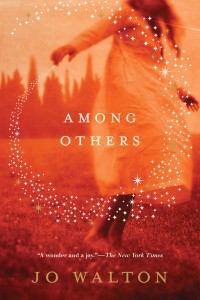 Jo Walton's Among Others begins with a story that is already over. Twin sisters in South Wales who can see and communicate with fairies were brought to battle with their mother who used magic for ill. One sister was killed and the other was injured, left with a maimed leg, the fragments of her life, and only the books she could carry. Readers are dropped into the story abruptly, right in the middle of a conversation between the surviving sister, Mor, and her aunts. Since the accident, we're told, she's run away, spent time in a children's home, then was given up to the guardianship of her estranged father. And now she's been enrolled in an English boarding school where her vow to cease practicing magic should be easy to keep as there is little magic there to come by.
Here is a story with its own mythology, though the background is not laid out for us. As the novel is structured as Mor's diary, she feels no need to illuminate facts and details, and so much of what's gone on is hazy, vague. There is also the question of Mor's own reliability– approaching this book from a literary angle, the sense is that she is so steeped in the tradition of science fiction that she's ceased to understand what is impossible in reality. Except then there come these moments where the magic is undeniable, and genres are blurred: science fiction and English boarding school lit (and of *course* Jo Walton has read Charlotte Sometimes), realism and fantasy, children's stories and adult novels. The magic is undeniable, yes, but the story itself is also so absolutely rooted in the world that I was as hooked as everybody said I would be.
It is books that save Mor from her dismal life (and oh, how Walton illuminates this, the pain of what she's lost), and also the friendships she discovers through books and reading. She is pleased to learn that her father is also a Sci-Fi fan and he lets her borrow from his library– this becomes the one connection between them. An outcast at school, she's excluded from games due to her disability, and spends hours in the school library where she appreciates the warmth of the school librarian. She's also asked to join a Sci-Fi book club at the bookshop in town, where she finds friendship, intellectual stimulation, and even love. The perfection of this happy ending is perhaps the most fantastic element of all, but it's everything we hope for her.
The straightforwardness of this narrative is complicated by Mor's own insistance that good things have only come her way because she's conjured them, however. She notes that so much of her recent fortune is too good to be true and puts it down to a spell she'd cast when she was most lonely. Of course, this can be read as a typical teenage approach to reality– that the universe exists to serve you only, that there's doubt that other people even exist except in terms of their relationship to you. Is her reality any less real though because she believes it's magic? Does it really matter if the result is the same?
To Mor, lines are blurred between worlds real and imaginary, which is fitting for someone who quite literally lives in a book, I suppose. Tolkien's universe is as real to her as her own is– she's convinced he saw the fairies too– and so are countless other literary worlds referenced that I was less familiar with. To those who know these worlds well, Among Others will be a pleasure, and to those (like me) who are absorbed by books, are grateful for their company, or even for those who just appreciate a good story, the novel will also ring true.
(Also, my favourite line in the novel was, "They weren't evil after all, they were just odd in a very English way.")