March 8, 2012
What loving Mad Men has taught me about loving books and reading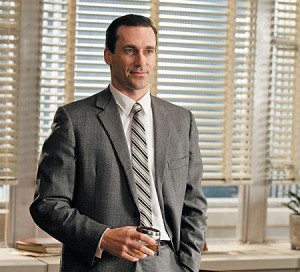 We started watching Downton Abbey last week, and I love it, but we're only watching it because there is not enough Mad Men in the world (and heaven knows, I've tried to make it go further. I've watched Seasons 1-3 twice, and saved season 4 for well over a year before finally watching it [and was the wait ever worth it. Season 4 was better than all the others put together]). And I've been thinking a lot about my relationship to Mad Men lately, about how I love this show and its characters like I haven't loved another show and its characters since Beverly Hill 90210 and Dylan McKay. By which I mean that I haven't loved anything like this since I was 14, that age of absolute longing for life and for the world, and I feel  something similar for Mad Men, perhaps because of the nostalgia implicit.
But the show absolutely occupies me too– I finish an episode, and I'm thinking about it for days. We've measured them out so slowly too that I have much time for reflection in between. I go looking for extracurricular Mad Men too with my Mad Men reading, and random Jon Hamm google searches. (Look! Books that Made a Difference to Jon Hamm! And also Nyla Matuk has written a poem called "Don Draper".) I could talk about these characters and their motivations forever, and their dynamics, and I do, because people like to talk about Mad Men, and when I do, conversations often reveal new levels of depth to the stories that I never even considered.
My relationship to Mad Men is so different from my relationship to any single book. See, I love books and reading with an all-consuming passion, but I don't love television. There is only Mad Men. So that I have more than 70 books on my to-be-read stack (which is actually a shelf. Such a stack would defy physics, I think), but I'll continue to watch Mad Men over and over again. I watch an episode of Mad Men, and wait a week for another, but with a book, I'm starting a new one before the other is even finished. I speed through my books. I relish it every time I crack open a new one. Mad Men I savour, because there is only so much Mad Men in the world, but my supply of books will never be exhausted. Which is sometimes exhausting.
And it's something to think about. What if instead of loving books and reading, I just loved one book, and read it over and over, and got so deep inside it? Or one author? To become an expert instead of a generalist? Which is unrealistic of course, and I don't even want to break my speedy reading habit, but it really is rare that I connect with a book as deeply as circumstances permit me to connect with this television show. (It's also easier to connect with a television show, which comes spoon-fed and all I have to do is lie on the couch and knit). But it occurs to me that there are ways in which the joy of my book fetishising obsession and love of reading in general come at the expense of how I relate books in their specificity. And that learning from my television habits might make me a better reader.