February 22, 2012
Afflictions and Departures by Madeline Sonik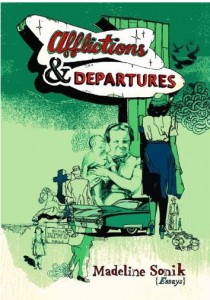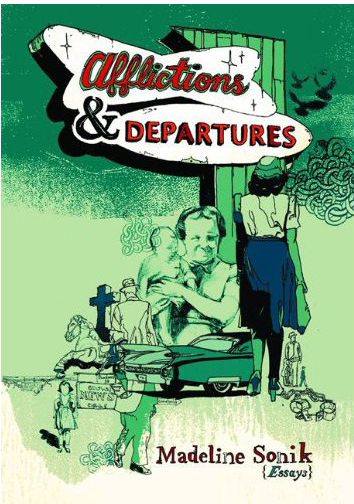 In her essay collection Afflictions and Departures, which has been shortlisted for the 2012 Charles Taylor Prize for Non-Fiction, Madeline Sonik stitches her personal stories to the fabric of her time. Her narrative voice is blessed with startling omniscience, with the benefit of hindsight, and with an acute awareness of both how the extraordinary can be illuminated by ordinary detail, and also of how the ordinary and extraordinary are so often intricately connected. Sonik's prose reveals her poet's skill, as does these essays' use of imagery and symbolism, but the broadness of her vision and the deftness with which she fits together surprising pieces of reality is evocative of Joan Didion's masterful non-fiction.
In "First Passage", Sonik imagines her parents' passage on the Queen Mary in 1959, a glamorous voyage toward hope and possibility that would stand out in contrast to the disappointment of the rest of their lives. As the journey is a point of departure for the collection, it is also such a point for Sonik herself whose conception takes en-route. And so the voyage is also envisioned as a point of departure for absolutely everything that follows after: "It is 1959, a year before birth control pills are made available to women, twenty-three years before the AIDS epidemic makes condoms available everywhere and politically correct. The sun is rising through a starboard hatch." That the Queen Mary's rudder weighs 140 tons and that in 1970, and that Sonik's father will become a violent alcoholic is given equal emphasis, and by the end of 1959, the USSR will have taken satellite photos of the far side of the moon.
In "Korean Moon", Sonik reflects on her father's war, The Korean War, humanizing and showing sympathy for a character who's such a monster in the rest of the book.
"Shadows" is a short study of the dark side of the late '50s and early '60s, before the darkness became omnipresent for a while and veneers were cracked once and for all (or for a while). A typical paragraph: "I am whisked away, swaddled in pink flannel, and tucked into a hospital nursery crib far from my mother's ward. In future years, irreversible brain damage and mental retardation will be linked to the lead-based paint that coat baby cribs. A decade from now, ninety percent of children under the age of six will have elevated lead levels in their blood and the government will ban the use of lead-based house paints. Studies will show that newborns who do not bond with their mothers in the sensitive period after birth risk emotional despondency and insecurity. But right now, as a nurse prepares my first bottle and my mother, still numb, prepares to light a cigarette, the daffodil sun is still shining and we are all blithely ignorant."
In "For Posterity", Sonik begins with a ride on The Maid of the Mist, considers Niagara Falls and concepts of love and romance, which brings a connection to the nearby Love Canal (whose name has surprising origins) whose contaminated ground's toxins are leaking into the Niagara River and turning up scores of dead fish along the shores which they don't see from the boat, so busy are they marvelling at the majestic power of the falls. She then thinks about suicides, Niagara Falls' underside, about her parents' own troubled relationship, and about all she didn't yet know about love and everything that life would teach her.
In "Easter", Sonik explores the inner lives of families, what goes on behind the row-on-rows of tidy doors that line their neighbourhood streets. This idea reappears in other essays, the sounds and signs of child abuse going unremarked upon, broken marriages, the inner lives of mothers, the secret worlds of cemeteries and the play they inspire.
"Fetters" deals with her own teenage drama juxtaposed against the backdrop of her father's slow and painful death from cancer: to the boy who's just broken her heart, she asks, "'Just say with me until my father dies.' It's a ridiculous request and I don't know why I ask it…. It shouldn't surprise me in the least when he says, "No," but it does… I can't stop myself from babbling and pleading for him to reconsider. My father is dying. He's not expected to live beyond the week.'
"Flush" begins with Sonik noting that she was born in the year the toilet made its cinematic debut (in Psycho), and marks the pivotal points in her life at which a toilet has functions as a surprising centre. Containing a line that would be fitting as this entire collection's subtitle: "I didn't know then, and it would be years before I learned…"
Afflictions and Departures is a beautiful book, fusing fact and feeling, the specific and universal, the domestic with the whole wide world, and the effect is a dazzling synergy.