February 21, 2012
Big Day: Welcome to The 49th Shelf!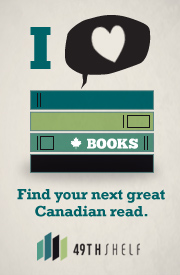 Canadian Bookshelf launched in beta last June, and officially arrives today with a whole host of new features and a brand new name: The 49th Shelf. The selection of books on our front page this week is blowing my mind (including Madeline Sonik's Afflictions & Departures, which I just finished yesterday and loved), our new I Love Books campaign is excellent, and you can find out more about what's going on in our latest blog post (and we're talking giveaway!). We've also got an interview with Maggie Helwig whose Girls Fall Down has just been selected for the One Book Toronto program (and which Stuart is currently reading and enjoying).
It's good news all around and so inspiring to see so much love and support for Canadian books. I'm so thrilled to be a part of it and hope you'll be a part of it too.